I've teamed up with BabbleBoxx.com on behalf of Kids2, for this sponsored post to explain how music impacts child development in children under the age of 2. All opinions are honest.
Have you ever wondered why babies dance to a beat before they even understand what dancing is? Even simple melodies help children with language, communication, balance, cognitive skills, and confidence. As a mother of a dancing, moving, grooving toddler, I am passionate about brands like Baby Einstein. If it sparks joy in my child and increases his development – I'm all about it!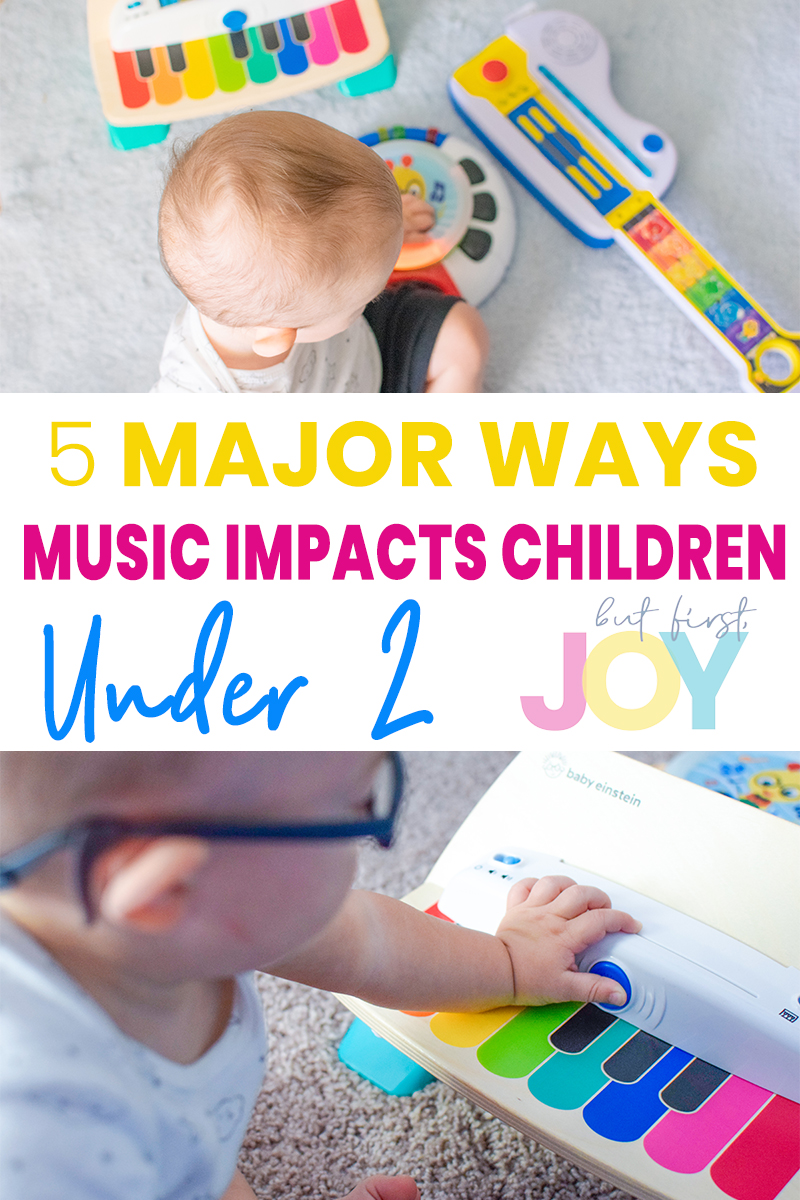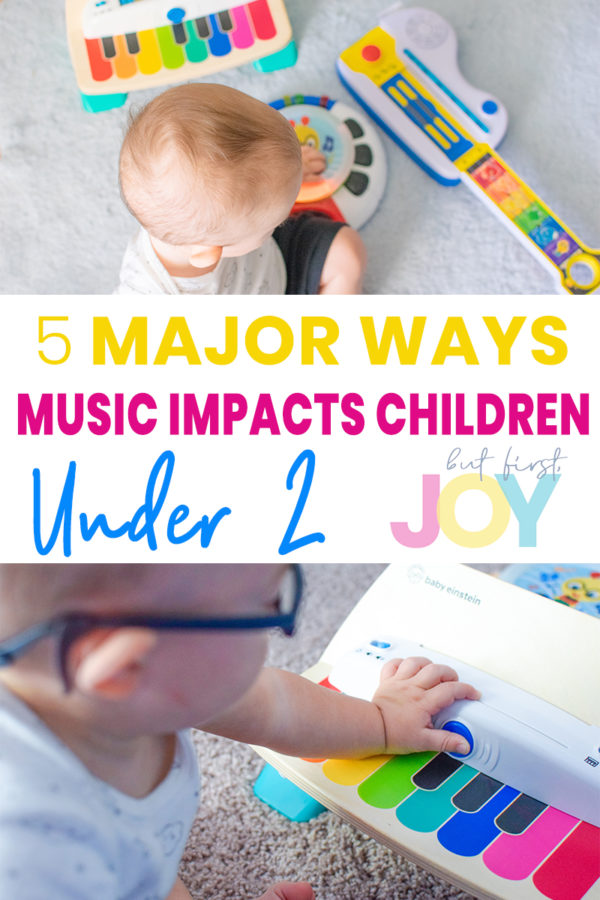 Being a music major myself, music has always played a very special role in my life and it appears to be genetic. Since my son was born, I've watched him react to music in ways that have left me dumbfounded. At 4 months old, he picked a favorite song. By 6 months, he was bobbing his head to music. At 8 months old, music would stop him from crawling so he could sway to the beat. As soon as my boy stood on his own, he was dancing. He was literally dancing before he was walking. Now, I have a literal playlist with his name on it because it's the only thing that calms him. It only makes sense to fill his toy box with Baby Einstein toys that promote music appreciation.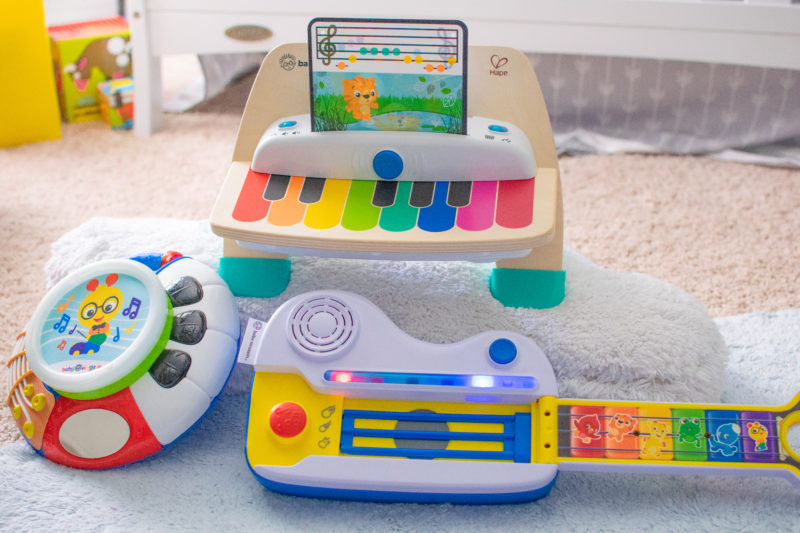 5 ways music increases child development
I had the pleasure of teaming up with the best experts in music appreciation to discuss exactly how music impacts child development, particularly in children under the age of 2.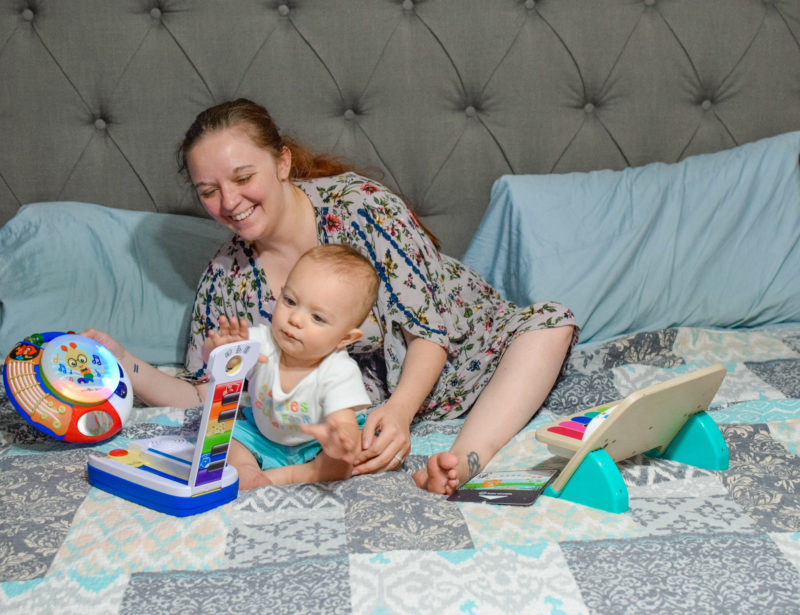 1. Hand-Eye Coordination
I still remember the first time my son noticed the toys hanging above his head in his baby rocker. I watched him as he accidentally hit the toys with his hands as he moved them around. Then, before I knew it, he was purposefully grabbing at the toys, listening to them rattle and ring.
Baby Einstein makes a rocker that's basically a parent's dream come true because it grows with your child. The Ocean Adventure Rocker converts from a newborn rocker to a toddler recliner. This idea is GENIUS; they are called Baby Einstein for a reason. This rocker plays music to keep your little one occupied.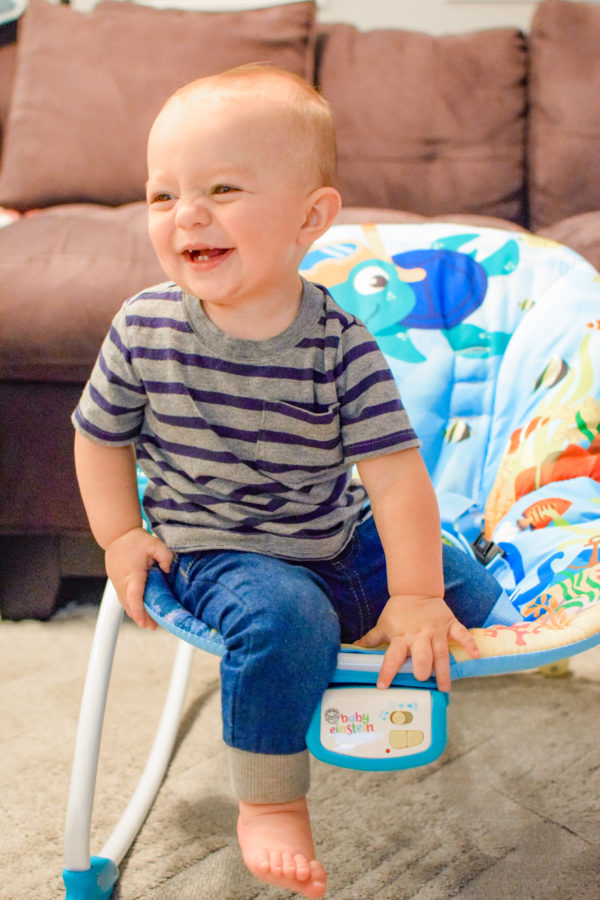 Fun Fact: Did you know that music engages every part of the brain? It makes so much sense as to why it's difficult to learn to play an instrument, especially at an older age when your brain is filled with so many things!
"The fine motor skills and muscular development required to play an instrument well is so intense that it is among the rare skills resulting in visible changes on brain scans."

– Klondike Steadman, DMA, director and co-founder of Orpheus Academy of Music,
2. Increasing Cognitive Skills
Watching my 13-month-old bounce his little body in sync with music, absolutely astounds me. I'm 30 years old and run into walls but a 1-year-old can make a connection like this?
Toys like the Baby Einstein Magic Touch Piano can help children remember catchy tunes and create their own! The music sheets included with this wooden piano will eventually help your child to read music and learn rhythmic patterns.
3. Learning Language
I always say that music is the universal language. It can speak to anyone and everyone. You don't need to understand the words to feel something. This would explain why babies and toddlers are so impacted by songs. The bonus is that you'll notice your child begin to speak words that they hear in songs. For example, my son's next words will probably be "Baby Shark". Send help.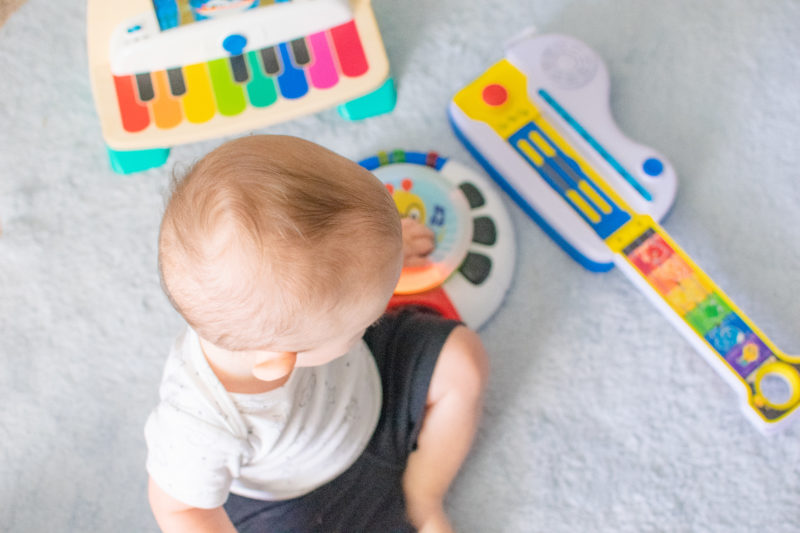 In all seriousness, music has literally changed the lives of families and children. Here's a great example from Learning Consultant, Andrew DeBell from Jam Campus Education.
One story that always pulls at my heartstrings was from a mother in Mexico. Her daughter, age 4, was diagnosed with non-verbal autism and her mother had been struggling to find learning solutions that helped her daughter learn English. Just by listening to Jam Campus educational songs and singing along, her daughter was able to significantly improve her English. Music is such a powerful tool for our minds that it can positively impact children struggling with developmental disabilities.
4. Improves Memory
Music also improves a child's memory. You'll notice your little one beating on a toy drum because he remembers that hitting the toy will play a fun beat.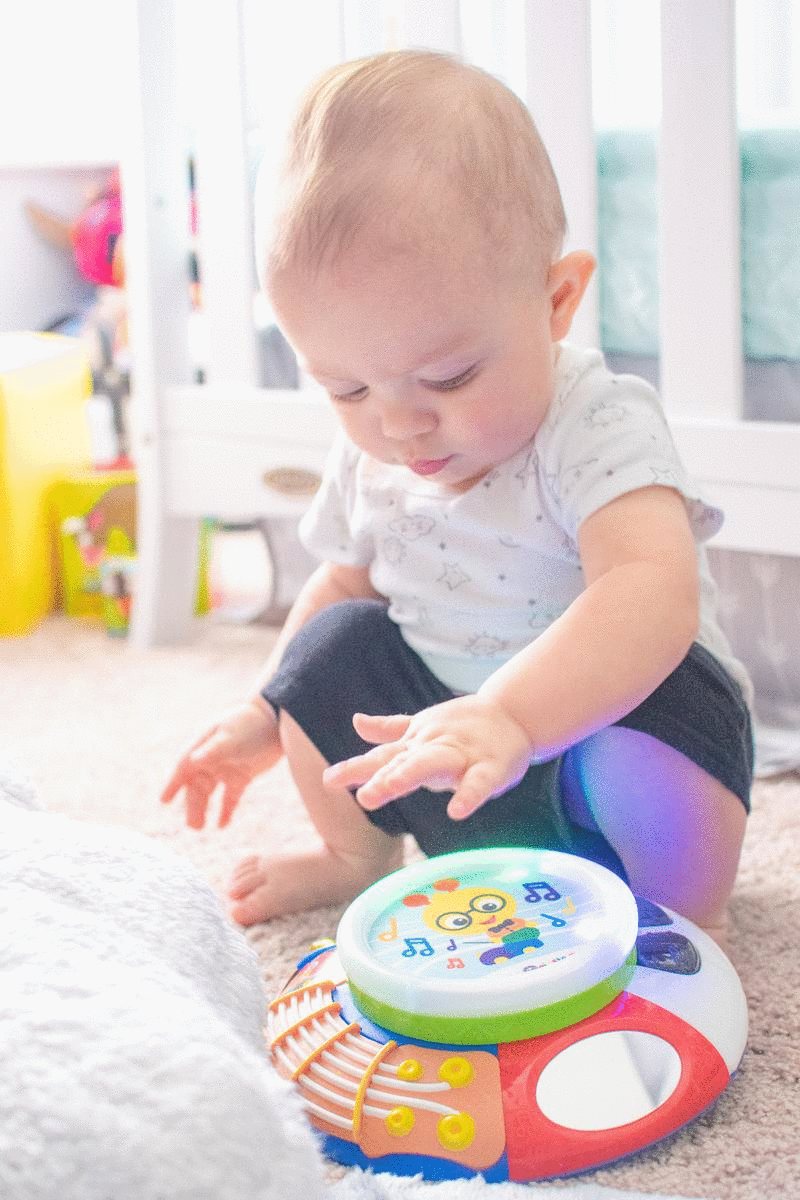 Let's take the Baby Einstein's Music Explorer as an example because this is my son's go-to musical toy. In just a few minutes, my son learned to beat on his drum to hear tunes and see flashing lights. He carries around the drum like it's a briefcase and beats on it whenever he needs a pick-me-up. I only wish he had this 10 months ago when he was just learning how to properly use his hands.
5. Self Expression
My favorite things about the impact of music on a child under 2 years old is watching them gain enough confidence to express themselves. Singing, dancing, and playing little tunes are a few things you might notice at this young age.
There's something about the Baby Einstein Flip & Riff Keytar that brings out my son's inner rockstar. He immediately understood that he could close the guitar to play the keys. His little fingers love moving the plastic guitar strings. My baby boy really shines when he pulls this out of the toy box!
**Get a discount on your Baby Einstein purchase with this coupon code! 30% OFF + free gift with purchase (shopping cart liner) + free shipping:

USE CODE: JOY30 at Kids2.com
** Offer valid on a select item(s) only on kids2.com. To redeem, add qualifying item(s) to your Cart and use promotion code at checkout. Offer will automatically apply to eligible items before taxes. Code valid for one use per person. Cannot be combined with any other discounts or promotions unless stated here. Previous purchases are not eligible for adjustments based on current promotions. Offer valid 4/22/2019 from 12:00 AM ET to 5/31/2019 11:59 PM ET. Supplies are limited. Offer is subject to change or end at any time. Discount is non-transferable and has no cash value. Receive free Standard Shipping and Handling on orders shipped to the Contiguous USA. Free shipping does not apply to Express Shipping or Hawaii, Alaska, Puerto Rico, military addresses or U.S. territories.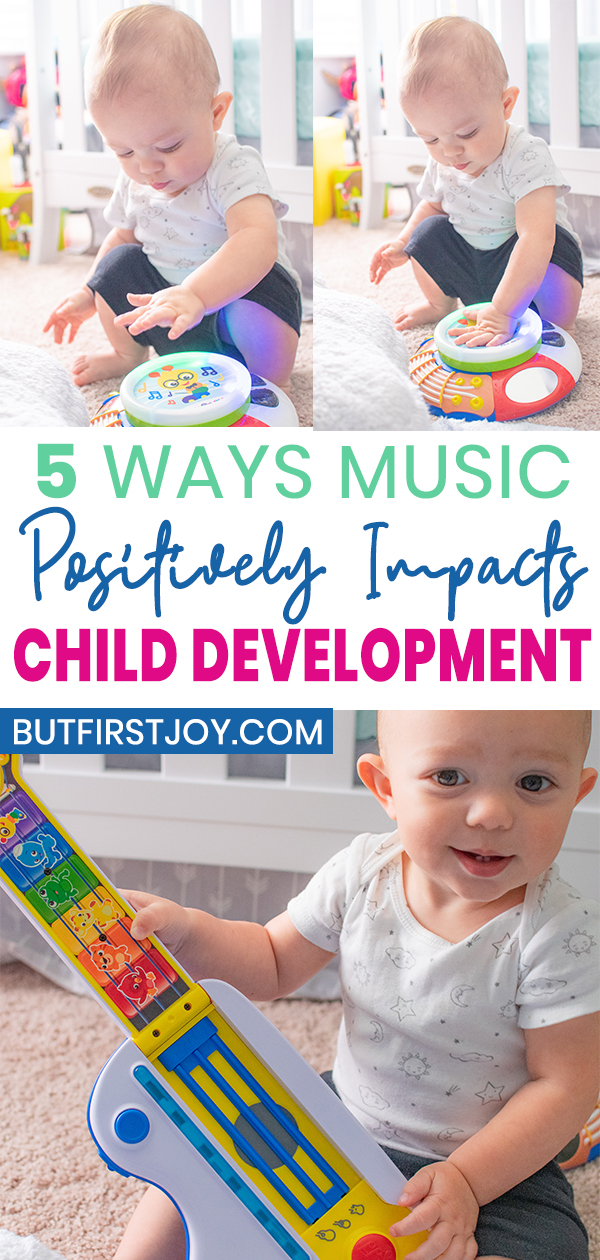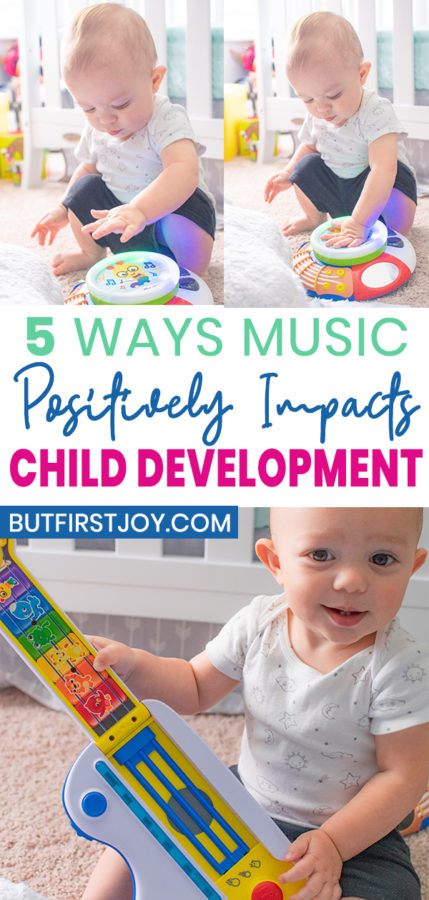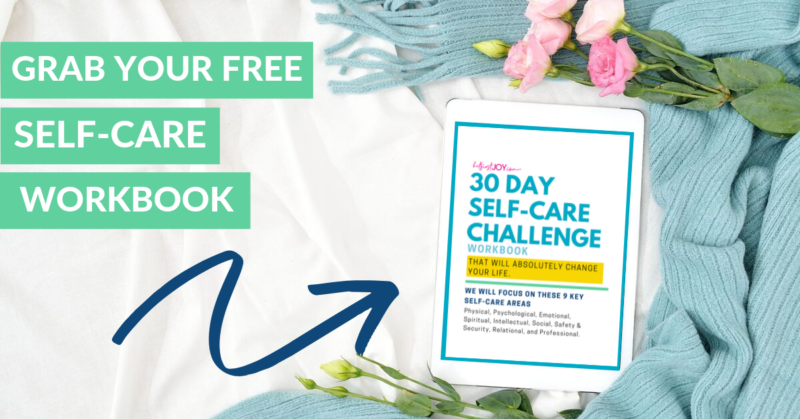 DISCLOSURE
As an Amazon Associate I earn from qualifying purchases. This post may contain affiliate links and/or promotional products, all opinions expressed are that of But First, Joy only. Read my full disclosure.