I reluctantly began watching the new Netflix Original Series, Tidying Up with Marie Kondo. The show is currently trending, which always makes me feel all sorts of things. Sometimes, I ignore the trendy things until the hype dies down, other times I tiptoe around the topic. This is one of those tiptoe situations for me. I was afraid I'd fall into the same trap as everyone around me: decluttering the entire house, donating my left foot, and cleaning until my arms fell off. Okay, that is very dramatic but I didn't want to do the cliché new year things. Plus, I didn't want to begin without the ability to complete a task. Being the mom of an infant means lots of unpredictable days and little time to dedicate to anything but him.
On one sleepless night, I decided to take a look. I've already binged everything that interested me and I didn't feel like doing anything that required much thought, so I turned on Netflix. It was 11:30 at night and I wanted to get up and organize my house. That's definitely not me. I never look forward to cleaning, organizing, or doing chores… but now, I am.
Tidying Up on Netflix is life changing. It's not just a declutter challenge; it's a new lifestyle. If your home gives you anxiety, feels chaotic, or too cluttered – I highly recommend this show to you. I promise it doesn't disappoint and it isn't as overwhelming as it seems.
1. Appreciate what you have.
This hit me like a ton of bricks. For the longest time, I've had an issue with shopping because it makes me happy. Being a collector, I'm always searching for that special find! In an episode of Tidying Up, Marie Kondo talked about the importance of appreciating what you already have. By removing the unwanted things from your life, you're surrounding yourself with the things that mean a lot to you. To me, that's a lesson I'll use in my every day life.
2. Saying thank you to objects makes them easier to get rid of.
When I first saw Marie tell a couple to thank an object before discarding of it, I giggled. It seemed silly to treat an object like a person. It wasn't until I began the process myself that I realized the power of a "thank you".
I personally have a problem with keeping things because they are brand new, even if I don't use them. In Tidying Up, I learned that even unused things brought value to your life because you learned that it's something you don't necessarily like.
So, when I'm donating and discarding of items, I say thank you. Thank you for allowing me to wear you; thank you for bringing a bit of happiness; thank you for teaching me something.
3. Only keep things in your life that "spark joy".
This is what Marie Kondo's concept is all about: holding an item and asking yourself, "Does this spark joy for me? Do I want to bring this into my future?" If the answer isn't a definite yes, then why keep it?
4. Your home is a reflection of your family & relationships.
It's an interesting thought, saying your home is a reflection of your family. I look around my messy, cluttered home and think, is it really? I don't think there's chaos in my marriage or my family. Then, I really think about it and I see how clutter and unwanted things is causing stress in our home. My husband and I are constantly trying to balance the household chores and take care of an infant. My mind is always somewhere else because I'm thinking of what needs to be done next.
The Tidying Up method teaches you to do make tidying a task you do all at once. Instead of taking things little by little (think of the 20 minute cleaning method) she recommends that you tidy the entire house all at once. In her show, she allows couples to spend 1 week on each category. Of course, you could spend less time on your categories, depending on the quantity you're working with.
My home is something I'm proud of and I want to invite people over at any time without scrambling to clean. My home is a reflection of me and maybe a tidy home will help tidy up my crazy mom brain.
5. Take things one step at a time.
One category at a time, that's her method. This translates perfectly into every day life. Sometimes we try to overload ourselves with work, events, activities, and entertainment. In the end, we aren't fully appreciating the moments we're living because our minds are always somewhere else.
While Marie Kondo was teaching the world better methods for tidying, she was teaching me better methods for living. I hope you get as much from her show as I did!
If you watched Tidying Up with Marie Kondo and want more, be sure to grab her book on Amazon: The Life-Changing Magic of Tidying Up
Take your decluttering obsession to the next level with my latest post: 8 ways to declutter your PHONE with the Marie Kondo Method
Get a FREE Tidying Up Checklist from my friend over at Clarissa Explains It All!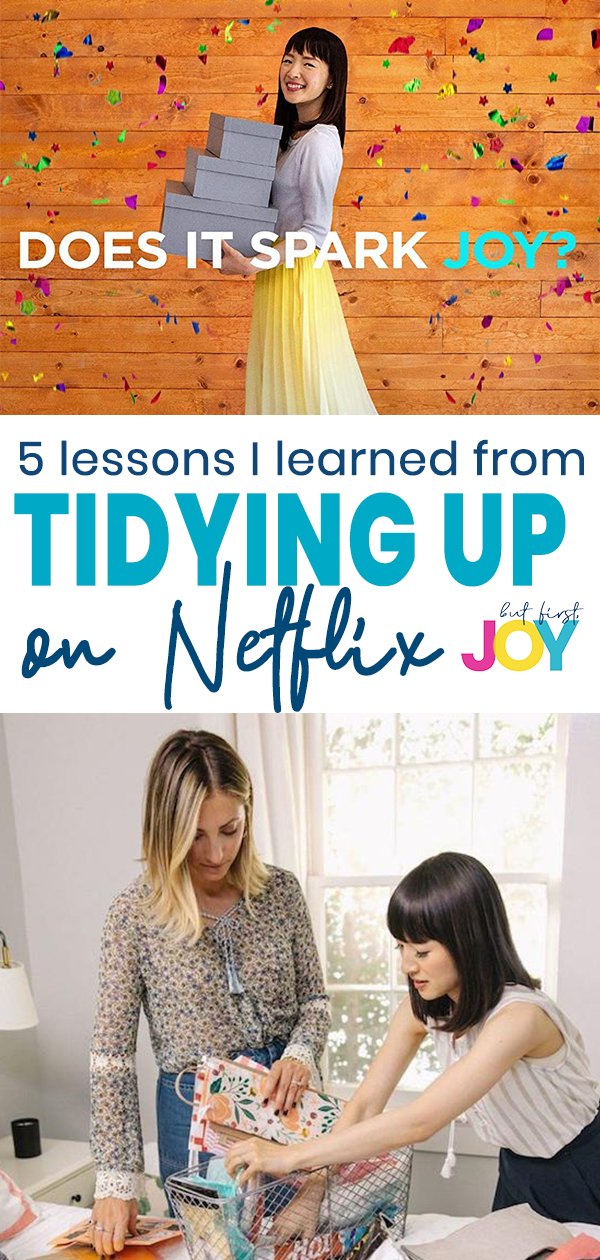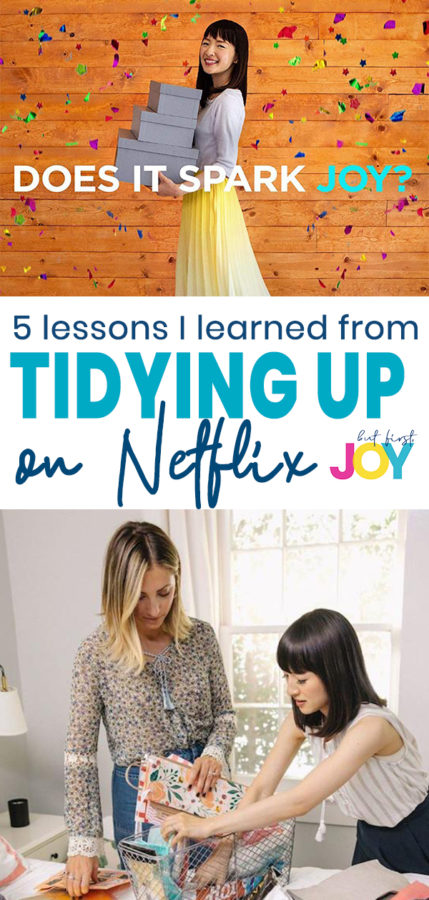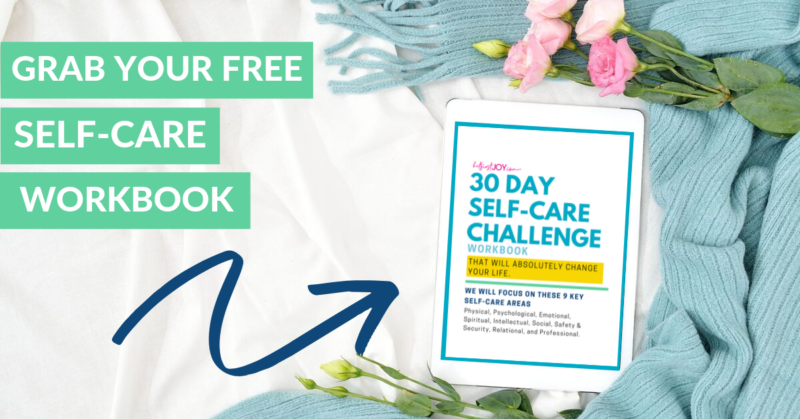 DISCLOSURE
As an Amazon Associate I earn from qualifying purchases. This post may contain affiliate links and/or promotional products, all opinions expressed are that of But First, Joy only. Read my full disclosure.