There are so many therapeutic things to do after a friendship ends. These 12 things will help you to accept, move on, and gain closure. All the while, you'll be growing as an individual.
Have you accepted that your friendship breakup was inevitable? If so, then it's time for you to put yourself together and move on.
Using these 12 methods, you'll learn how to heal and grow from this difficult experience.
As they say, when one door closes, another one opens.
When a romantic relationship ends, we get countless amounts of sympathy from family and friends.
However, nobody tends to notice when a friendly relationship ends. While friendships nurture our souls, we often neglect them.
This is particularly tough if you feel as if you're drifting away from an old friend or have a major fight with your BFF.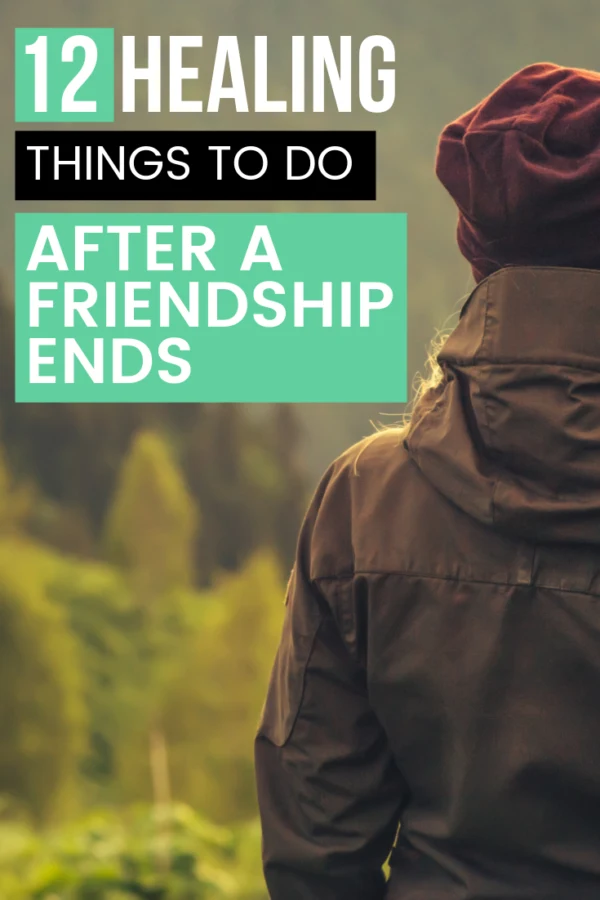 Healing Things To Do After a Friendship Ends
If you're feeling upset, hurt, or distraught because a friendship is over, study the following pointers for coping with your feelings.
First, gain some insight:
1. Take Responsibility
Be honest about your role in how your friendship ended. Maybe you can spot patterns in your behavior and stop them before it's too late in the future.
2. Cherish Memories
You can remember the happy times even if you stop hanging out together. Hold onto those funny stories, bonding moments, and favorite photos. They are yours to keep!
3. Take a Step Back
Try to show a little empathy by putting yourself in your friend's shoes.
Could you be taking things too personally? Maybe there was a miscommunication? What were the intentions behind the ultimate disagreement?
When you see the friendship more clearly, you may realize that you have nothing o regret. However, you could see that it's something worth resolving.
Friendships bloom and wither as we enter new stages in life.
4. Embrace Change
Sadly, the end of a friendship is all a part of life. Friendships bloom and wither as we enter new stages in life.
It's important to accept these changes as a positive. Be optimistic about this new chapter in your life. Celebrate your progress even when it means making major changes and saying goodbye.
5. Address Conflict
I dislike confrontation as much as the next person, but it's necessary in conflict resolution.
While ending the friendship may be the right thing to do, we can lost valuable friends because we're afraid to address sensitive issues.
Learning to resolve conflicts may help you to resurrect your friendship or be better prepared for your next challenge.
6. Consider Therapy
Never be afraid to ask for help. Therapy or counseling is a great option if you find yourself depressed or distressed for a long period of time.
We tend to grieve the end of friendships. A professional can help you get to the bottom of it and teach you the tools it takes to move on.
These friendship breakup quotes will also help with healing after a friendship ends!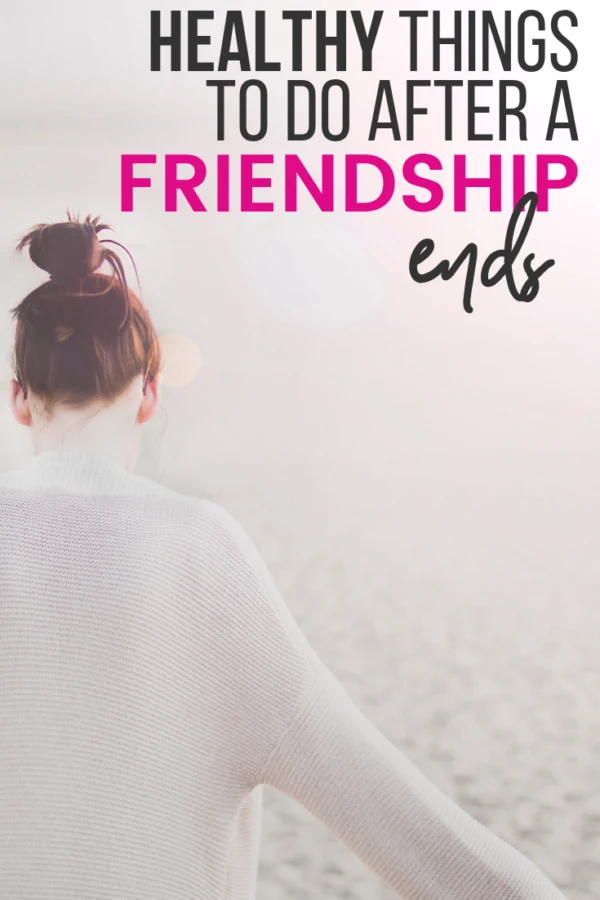 Next, Take Appropriate Action:
1. Practice Self-Care
Never stop practicing self-care. Even if you're hurt, don't use this as an excuse to overeat or become a hermit. These positive affirmations will help you love yourself again.
2. Surround yourself with supportive people.
Let your family and friends know when you're going through a difficult time. Tell them how they can help you. Maybe you need someone to simply listen to you or just remind you that you're valuable and loved.
3. Do the things you love!
Fill your time with enriching activities and hobbies. Redecorate your bedroom or volunteer at an animal shelter. Start reading again or join a new gym. Find your happiness in other areas of your life.
4. Write down your feelings.
There's something really therapeutic about writing your feelings down. Whether you're physically writing them on paper, adding them to your cellphone notepad, or typing in a blog – it's a great way to practice moving on.
Don't mail the letter. Write it out and let it go.
5. Make New Friends
Investing too much in a single relationship can be overwhelming for your friend and leave you vulnerable. Use this time to expand your personal and professional networks.
6. Be the bigger person!
You may feel tempted to make unkind remarks to mutual acquaintances or post negative comments on social media. You'll heal faster if you resist that urge and resolve to rise above any pettiness. Don't be an internet troll or an adult bully.
Rise above by being the bigger person.
You'll probably gain and lose many friends over the course of your life, but each relationship can help make you kinder and wiser. Saying goodbye to a friend can be an opportunity to honor the role they played in your life and learn how to cultivate new and deeper connections.