Women and Their Pretties and Mama Smith are huge movie lovers. In fact, a lot of our conversations consist of movies, actors, and TV Shows. It's one of many things that we have in common with one another and with our readers. We all love movies. It's fun to lose yourself in a good film for a couple fo hours. It's even more fun when you dedicate an evening with your family to enjoy all of this together. We have compiled a list of our favorite movies – for families, children, couples, and adults. There's a little something for everyone on this list. We hope that you enjoy it!
This guide contains affiliate links.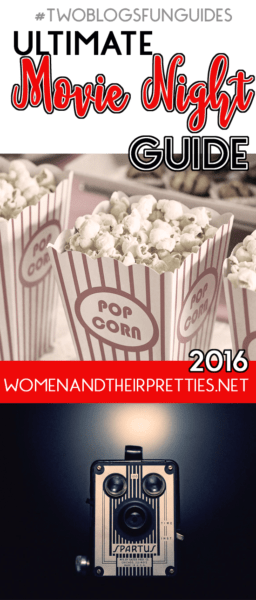 The Choice
Travis is a fun-loving, smooth-talking bachelor who's never considered a serious relationship—until he falls hard for his beautiful new neighbor, Gabby. But when fate threatens Travis and Gabby's love, Travis must make a choice that will alter their lives forever in this unforgettably moving romance.
Purchase Here
Read our reviews: Nicholas Sparks' The Choice surprises audiences with lots of laughs & settings that take your breath away!
---
Royal Night Out
This charming reverse Cinderella story is inspired by true events that recounts the celebration of the end of WWII during 1945 in Europe where Princess Elizabeth and Princess Margaret leave the confines of Buckingham Palace to venture out into London for a whirlwind of adventure.
Purchase Here
Read our reviews: Royal Night Out expresses freedom, individuality, and acceptance.
---
Zootopia
From Walt Disney Animation Studios comes a comedy-adventure set in the modern mammal metropolis of Zootopia. Determined to prove herself, Officer Judy Hopps, the first bunny on Zootopia s police force, jumps at the chance to crack her first case even if it means partnering with scam-artist fox Nick Wilde to solve the mystery. Bring home this hilarious adventure full of action, heart and tons of bonus extras that take you deeper into the world of Zootopia. It's big fun for all shapes and species!
Purchase Here
Read our reviews: Zootopia Surprises Audiences with Touchy Subjects, Witty Comedy, and Detailed Animation
---
Strawberry Shortcake: Campberry Stories
It's time for tall tales and small kindnesses in this berrytastic animated trio. Strawberry Shortcake and her pals are on their annual campout in Very Beautiful Meadow when they decide to see who can tell the most outrageous story. Plum, Cherry and Orange get things started with different made-up reasons to explain why they're late to the party. Sour tells everyone an imagined adventure involving her and her sister, Sweet. And Apple tells the campers about a thrilling cross-country race… only she insists it really happened. It's going to be a berry difficult decision to choose the best tale!
---
Deadpool
Hold onto your chimichangas, folks. From the studio that brought you all 3 Taken films comes DEADPOOL, the block-busting, fourth-wall-breaking masterpiece about Marvel Comics' sexiest anti-hero: me! Go deep inside (I love that) my origin story…typical stuff…rogue experiment, accelerated healing powers, horrible disfigurement, red spandex, imminent revenge. Directed by overpaid tool Tim Miller, and starring God's perfect idiot Ryan Reynolds, Ed Skrein, Morena Baccarin, T.J. Miller and Gina Carano, DEADPOOL is a giddy slice of awesomeness packed with more twists than my enemies' intestines and more action than prom night. Amazeballs!
Purchase Here
Read our Reviews: Deadpool Movie Review (+ A Marvel Cameo You Probably Missed)
---
Kung Fu Panda 3
KUNG FU PANDA 3 is "a beautifully rendered, lovingly constructed action-comedy that's sure to please kids and adults alike," proclaims Gary Goldstein of the Los Angeles Times. James Vernier of the Boston Herald asserts that KUNG FU PANDA 3 is "spectacular." And Bill Bregoli of CBS Radio News declaresKUNG FU PANDA 3 is "non-stop action, thrills and laughs!" Kick off the summer with the KUNG FU PANDA 3 Awesome Edition on Blu-ray™, DVD and Digital HD. Featuring more fun, funny and action packed bonus features including 2 all-new Kung Fu Panda animated shorts, Everybody Loves A Panda Party Karaoke with Po, Make a Panda Party Paper Pal and more!
Purchase Here
Read our Reviews: 3 Reasons You Should Go See Jung Fu Panda 3
---
Goldie & Bear: Best Fairytale Friends
Everyone knows "Goldilocks and the Three Bears," but after that story ended, a remarkable friendship began! Team up with newfound best friends Goldie and Bear on amazing adventures as they laugh, play and learn important life lessons in the wondrous Fairy Tale Forest. Climb a beanstalk with Jack, try on Little Red's famous hood, outsmart the tricky Big Bad Wolf, and much more. Join Goldie and Bear – and your favorite fairytale and nursery rhyme characters – for magical, song-filled fun you'll treasure today and ever after!
Purchase Here
Get free activity sheets here
---
Star Wars: The Force Awakens
Visionary director J.J. Abrams brings to life the motion picture event of a generation. As Kylo Ren and the sinister First Order rise from the ashes of the Empire, Luke Skywalker is missing when the galaxy needs him most. It's up to Rey, a desert scavenger, and Finn, a defecting stormtrooper, to join forces with Han Solo and Chewbacca in a desperate search for the one hope of restoring peace to the galaxy.
Purchase Here
Get free activity sheets here
Star-Wars Inspired drink recipes
Plan a Star Wars party
---
Norm of the North
When Norm the polar bear learns that humans are moving to his Arctic home, he heads to New York City with a ragtag team of lemmings to try to stop them. Norm has "oodles of charm" in this cool adventure the whole family will love.
Purchase Here
Get free activity sheets here
---
Open Season: Scared Silly
Boog and Elliot are back in an all-new fun-tastic adventure! When Elliot tells a campfire story of a monster in the woods, Boog – who has never been the bravest of bears – becomes very scared. His best friend Elliot comes up with a crazy plan to scare the fear out of Boog! With the help of Mr. Weenie, McSquizzy and all your favorite forest friends, they venture on a hilarious journey where the power of friendship helps Boog overcome his fears with lots of laughs and some surprises along the way!
Purchase Here
Get free activity sheets here
---
BLING
Rock out to a superhero adventure for the whole family with the exclusive debut of BLING on Google Play. Featuring the voice talents of Taylor Kitsch, Carla Gugino and James Woods, BLING follows the tale of lowly theme park mechanic Sam whose plan to marry the girl of his dreams is thwarted by a super villain. It is up to him and his team of superhero robots to save the city. Can this accident-prone amusement park mechanic get back his ring, stop the villain, and win the girl before it's too late?
Purchase Here
Read our reviews: The Animated Movie, BLING, Gives Kids a True Definition of Loyalty / BLING is a Hit with Kids
Interview with Bling's Jason Mewes
---
Miraculous: Tales of Ladybug & Cat Noir
Get Spots On With The First Superheroes Of Paris! Marinette and Adrien live what appears to be a normal life: going to school and dealing with friends, family and growing up. But when the evil Hawk Moth threatens their beloved city of Paris, they transform into the superheroes Ladybug and Cat Noir, using super powers gained with the help of their magical pets! Hawk Moth is using his evil energy to transform normal people into super villains, so our two heroes need to use all their skills to defeat him! And if that wasn't enough for this super-powered pair to deal with, each of them also has a secret crush on the other… though neither knows the other's secret identity! It will take a lot (friendship, teamwork and skill) to outwit Hawk Moth and keep Paris safe! Featuring seven incredible episodes!
Purchase Here
Get free activity sheets here
---
RIDE ALONG 2
The brothers-in-law are back! Ben (Kevin Hart; Get Hard, The Wedding Ringer), a recently graduated police rookie, now aspires to be a detective like his soon-to-be brother-in-law, but James (Ice Cube; 22 Jump Street, Barbershop) still doesn't think that he has what it takes for the job. He reluctantly takes Ben with him to follow up on a lead in Miami. Plans for a quick trip go awry when their unorthodox policing gets them into a compromising situation that threatens to derail a major case… and Ben's upcoming wedding day. Also starring Ken Jeong, Benjamin Bratt, Olivia Munn and Sherri Shepherd. The dynamic duo of Cube and Hart renew their comedic connection in this bigger, better, and funnier sequel!
Read our reviews: Ride Along 2 on DVD
---
KINDERGARTEN COP 2
Dolph Lundgren and Bill Bellamy star in the hilarious next chapter of the Arnold Schwarzenegger classic, Kindergarten Cop. To recover stolen data in a progressive school, the FBI's toughest agent (Lundgren) must go undercover on his most difficult assignment yet: teaching a class full of liberal kindergarteners. Kindergarten Cop 2 is an action-­packed comedy the whole family will love!
Read our reviews: Dolph Lundgren & Bill Bellamy Star In Kindergarten Cop 2 / Kindergarten Cop 2 Review: Did it live up to the first?
---
QUACKERZ
Many many years ago, when the trees were tall, the old ducks had feathers on their heads, and the Sun shone for everybody alike, on a faraway island there lived a Sun Duck whom protected his flock from evil powers threatening from the outside. The Sun Duck had his loyal guardians who vigilantly supervised the territory and made sure the Sun evenly spread its energy on their flourishing land. The bliss continued until an Evil Witch learned of the Sun Duck's superpowers and lost her sleep in an attempt to enslave the magic bird. One by one she seized the guardians and stole the Sun Duck away for the only sake every living woman would understand: eternal youth and mesmerizing beauty. Today, nobody believes in old legends, Mandarin ducks peacefully reside on their island and abide by the law that prescribes «no flying on the island!» and «never leave the island!». The Emperor is the only one who knows that the Legend is true and the next generation Sun Duck has been borne. He keeps it in strict secrecy, but the Witch also knows the Legend is true and she is coming back for her next victim.
Read our reviews: Meet the Characters from Quackerz
---
THE FINEST HOURS
This heroic action-thriller is based on the extraordinary true story of the greatest small-boat rescue in Coast Guard history. In 1952, a massive winter storm strikes off the coast of Cape Cod, ripping a T-2 oil tanker in half and trapping more than 30 sailors inside its rapidly sinking stern. When word of the disaster reaches the U.S. Coast Guard, four men led by Captain Bernie Webber (Chris Pine) set out in a 12-seat boat on a daring mission to rescue the stranded men, braving freezing cold, 60-foot waves and hurricane-force winds, and guided by Webber's vow that "We all live, or we all die." Packed with thrilling, larger-than-life action and anchored in a belief in the strength of the human spirit, The Finest Hours is a triumph.
Read Our Reviews: The Finest Hours tells the true story of strength, hope, & determination / Review: The Finest Hours
---
Mickey's Sport-Y-Thon
Put on your sneakers and get ready for the greatest sporting event ever! Join referee Goofy and all your Clubhouse Pals from earth and outer space as they compete in wonderfully wacky games. Share the excitement — and a sky-high view of the action — as sportscasters Pete and Donald Duck broadcast live from above in the Sport-y-Thon Blimp! Who will earn a prized Golden Mickey Medal? Help our heroes discover that with teamwork and good sportsmanship, everybody wins! Jam-packed with over two hours of song-filled fun, MICKEY'S SPORT-Y-THON will have you calling for an instant replay!
Read our reviews:
Mickey Mouse Clubhouse: Mickey's Spot-Y-Thon