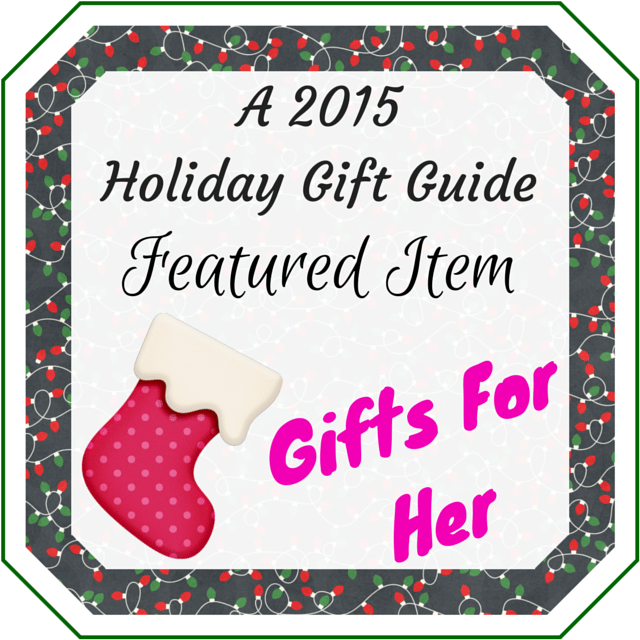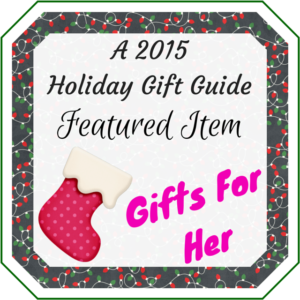 Welcome to the 2015 Gifts for Her Holiday Gift Guide. Here you will find gifts for HER. These gifts are suitable for wives, girlfriends, friends, mothers, grandmothers, and any other type of woman! All of these gifts were tested and approved by Women and Their Pretties or Mama Smith's Blog (unless otherwise stated).
Follow Mama Smith's's board Holiday Gift Guides on Pinterest.
Performance Herb II Hoodie

All new and updated for 2015, the Performance Herb II hoodie has been updated with a full zipper and enhanced features to make it warmer, softer, and more comfortable, so it's perfect for pedaling around town or puttering around the house. Made with a soft, stretchy material with a warm, brushed interior lining, the Herb II is ideal for riding, raking leaves, or watching the game. The relaxed fit makes movement easy, and an attached hood with adjustable draw string helps keep you warm on those colder mornings. Two front pockets give you a place to warm up those hands, and a reflective strip on the hood helps keep you visible at night.
Purchase Here
Read Our Reviews: 10 Riding Tips + Performance Herb II Hoodie Review
Connect on Social Media: Facebook / Twitter
---
Endangered Species Chocolate

10% of Endangered Species Chocolate's net profits are donated annually to current 10% GiveBack Partners – each is guaranteed a minimum annual donation of $10,000 and is free to use the funds on projects they deem most important. With over $1 million generated in the past three years alone, each chocolate purchase adds up to big support that helps wildlife thrive. So why not enjoy some delicious chocolate AND help out some animals in the process?
Purchase Here
Read Our Reviews: Indulge in a Cause with Endangered Species Chocolate | #Giveaway #HGG
Connect on Social Media: Facebook / Twitter
---
KEEN Elsa Boots

I seriously recommend these for all of your cool weather adventures or even as a gift for the lovely ladies in your life. They are stylish, comfortable, and water-resistant! I sure would love to wake up to a pair of these under the tree on Christmas morning!
Purchase Here
Read Our Reviews: Welcome Bad Weather with KEEN Footwear
Connect on Social Media: Facebook / Twitter
---
Benique Jewelry

Benique introduces both daily and classic pieces for everyday wear. Their chic and stunning pieces are designed to make a statement at special occasions and events at an affordable price and without sacrificing quality or attention to detail. They strive to offer low costs, countless variety, and an emotional connection to both their company and the fashion industry as a whole. By working closely with suppliers, and through constant communication, they are able to eliminate any middleman markup, and offer the same high-quality, luxury style that other brands offer for only a fraction of the price. By releasing fabulous new designs frequently, they keep our collection fresh, varied, and always in season.
Purchase Here
Read Our Reviews: Accessorize with Benique Jewelry | Benique Jewelry – For The Classic or Modern Woman
Connect on Social Media: Facebook / Twitter
---
Mighty Mug

Mighty Mug is the innovative mug that grips to your desk when knocked into. Say good-bye to your old mug that falls over and spills. Desks of the world rejoice! Whether you are looking for a vacuum insulated mug to keep your beverage warm on the go, an ice tumbler for those hot summer days, or a travel mug to fit your single serve coffee machine, there is a Mighty Mug tailored to your needs.
Purchase Here
Read Our Reviews: Never Spill Your Coffee Again with Mighty Mug
Connect on Social Media: Facebook / Twitter
---
Bella Reina Vegan Lipstick

When you think of "real" vegan lipstick, you think healthy and good for you. Actually good enough to eat, which is what you do with lipstick anyway. In the cosmetic world, many lipsticks claim vegan while actually having other harsh ingredients like parabens and phthalates. Toxic ingredients hide in cosmetics and makeup causing allergic reactions. Because Nancy ("the" Bella Reina) is allergic to dairy, corn, and gluten sensitive, thier lipstick had to be free from chemicals, vegan and as organic as possible.
Purchase Here
Read Our Reviews: Bella Reina #Vegan Lipstick
Connect on Social Media: Facebook / Twitter
---
Artic Adventure Winter Boots

Stylish and slimming, the Arctic Adventure features a 100% waterproof, 4mm neoprene upper and fleece lining for maximum insulation rated to minus 20 degrees. Built with women in mind, these boots provide a comfortable and snug fit, ideal for shoveling snow or commuting to work. Available in wide variety of colors and prints with a multi-purpose, self-cleaning outsole designed to grip even the most slippery surface, this boot is perfect for any cold weather activity.
Purchase Here
Read Our Reviews: The Original Muck Boot Company
Connect on Social Media: Facebook / Twitter
---
Women's Como Leather Boots

Taking inspiration from the stylish cities of Europe, this tall, sleek leather Como boot looks fresh on top of a stacked heel. 100% Waterproof leather, warm neoprene, and traditional Muck Boot® DNA, delivers the most comfortable look in town.
Purchase Here
Read Our Reviews: The Original Muck Boot Company
Connect on Social Media: Facebook / Twitter
---
Trim Healthy Mama

Counting calories is out. All the food groups are in. Becoming trim and healthy doesn't have to be difficult or painstaking anymore. After trying almost every fad diet out there, Serene Allison and Pearl Barrett, creators of the Trim Healthy Mama movement, took matters into their own hands. Through trial and error and much research, they created the Trim Healthy Mama Plan and companion cookbook, the breakthrough lifestyle program to help readers of all ages and stages get healthy, slim down, and keep off the weight once and for all.
Purchase Here
Read Our Reviews: Trim Healthy Mama Plan & Cookbook
---
Fanity
Looking your best is easy when you have an illuminated and magnified vanity mirror that also includes a stylish tower. The Fanity™ will keep you cool while styling your hair and applying make-up with a gentile breeze by means of it's ornate metal tower fan. The LED Lighted Vanity Mirror features a dual-sided, premium quality mirror with two magnifications. On one side, a 5x magnification mirror allows you to see up-close and in detail, allowing for easy make-up application. The other side features a normal, 1x magnification mirror that is great for checking hair and make-up. The vanity mirror lights up with energy-saving LED bulbs that illuminate your entire face, allowing you to see the finest details in even the dimmest lighting.
Purchase Here
Read Our Reviews:
The Fanity – A Vanity Double Sided Mirror and Fan

Connect on Social Media:
Facebook
/
Twitter
---
SoftSoap Body Wash

Softsoap Body Wash has a new line called Fresh & Glow that contains two scents – Exfoliating Fruit Polish (made with apricot seeds and natural extracts) and Hydrating Shower Cream, which is coconut scented. This stuff smells heavenly and should be in every shower. I personally love the exfoliating fruit polish and have told everyone I know about it.
Purchase Here
Connect on Social Media: Facebook
---
Trilipiderm Skin Care
Trilipiderm® is unlike any dry skin moisturizer you've ever tried. Because trilipderm® is far more than a simple moisturizer for dry skin. trilipiderm® is a breakthrough all-body moisture retention crème. Not only is trilipiderm® formulated to be absorbed easily into the skin to replenish the skin's moisture levels and alleviate dryness, it actually rebuilds the natural barrier to water loss. Moisture is sealed into the skin, and Trans-epidermal Water Loss (TEWL) is reduced.
Purchase Here
Connect on Social Media: Facebook
---
Batiste Dry Shampoo
The Batiste Dry Shampoo is a great gift idea for women because it is easy to carry and perfect for a mid-day hair refresher. Every woman loves a quick touch-up throughout the day! Give your hair a quick spray with Batiste dry shampoo and your hair will look and smell great!
Purchase Here
Read Our Reviews: Batiste Dry Shampoo- A Music Festival Must Have / Refresh Your Hair with Batiste Dry Shampoo
Connect On Social Media: Facebook / Twitter
---
NuMe Travel Kit
The essential NuMe Travel Kit conveniently includes everything you need for beauty on-the-go. Straight styles, wow waves and natural-looking curls are effortlessly created with the Ionic Dryer, 1" Curling Wand with interchangeable barrel, and the 100% Tourmaline Straightener.
Use My Affiliate Link: Purchase Here
Use Code: TRAVEL119 to get this kit for $119
Read Our Reviews: NuMe Travel Set – A Christmas Gift For Beauty Lovers #GiftsForHer
Connect On Social Media: Facebook | Twitter
---
Kiss InstaWave Automatic Curler
It's quick and easy to get salon-quality curls with the revolutionary new InstaWave by KISS. Just push the button to style any type of hair effortlessly. I would definitely recommend the Instawave as a gift for any woman. It's so unique and works great! The idea is there and the concept really works. It's a thought out design that all the ladies will love.
Purchase Here
Read Our Reviews: The InstaWave Automatic Curler Review and Video / KISS InstaWave Review
Connect On Social Media: Facebook / Twitter
---
Kiss Salon Secrets Nail Art Starter Kit
This nail art set is great for beginners, like myself. It's fun, colorful, and easy to figure out. It includes nail design tips, so you can figure out how to use each items and how to create some exciting designs. It has jewelry, glitter, and more tools for creating magic on your nails. I recommend this gift for all of the girls in your life. It's affordable too! Pick yours up at a CVS near you.
---
The
Spice
Lab
has gourmet sea salts, seasonings,
spices
and teas in a variety of gift packaging great for
the
holidays! I tried out the Cream Earl Gret, the Royal Bengal Tiger, the Yorkshire Earl Gret, and the Buckingham Palace Teas – all incredibly flavorful. I will use the spice rack time and time again as well. Each tea came with tasting notes. The Honey Mustard Poultry Rub was delicious as well. At TheSpiceLab.com you are sure to find something for everyone!
---
Bath Gift Set

Grab a bath gift set for the woman in your life. These sets are packed with bath time essentials such as body scrub, bath soap, body lotion, bath salts, shower gel – and even a shower cap and sponge! All of these goodies come in a really cute basket that can easily be repurposed to display items in your bathroom or elsewhere in your home. I received the Vanilla Coconut Scent and had one of the most relaxing baths of my life. These gift sets are the perfect gift for any girl – young or old. Just $9.99 each at a CVS near you.
Find Where to Purchase Here
Read Our Reviews: Shop CVS For All Your Holiday Gifts
Connect on Social Media: Facebook / Twitter
---
JORD Wood Watch
I completely love these wood watches. I think that they are one-of-a-kind and would make a great gift for the holidays. There are wood watches for men and women. The design is impeccable and the price is unbeatable! Shop JORD for your holiday Christmas lists.
Purchase here
Read Our Reviews: Fashionable, Handcrafted Wood Watches from JORD
Connect on Social Media: Facebook / Twitter
---
Cutex Twister – Brush & Sponge Nail Polish Remover
Every woman knows how difficult removing glitter from their nails is. It takes a lot of scrubbing, which is nearly impossible with a simple cotton ball and nail polish remover. This is where the Cutex Twister system comes in. I am seriously never going back to another nail polish remover. This is genius. You just stick your nail into the sponge (which is in a tub filled with remover) and when you pull your nail out, the polish is gone! If you have stubborn polish, like glitter, stick your nail into the brush circle and scrub that polish off. It's incredibly quick, convenient, and efficient!
Want a traditional cleaner? Check out the Cutex Spa Formula Nail Polish Remover. This also works great for removing diffiult nail polish and even shellac!
Purchase here – only $8.99 for a 2-pack! Great deal!
Connect on Social Media: Facebook / Twitter
---
Pixi Beauty Cosmetics
What woman wouldn't love good makeup for Christmas? I know that I would. I hope that this guide helps give men the "hint". Women want beauty products! Even if your lady doesn't wear makeup all the time, I'm sure that Pixi Beauty will have her smiling on Christmas morning! Buy her a nice purse and fill it with makeup or stuff some of these in her stocking.
Purchase here
Read Our Reviews: 3 Makeup Products That Tinker Bell Would Wear
Connect on Social Media: Facebook / Twitter
---
Celtic Knot Ring
This ring would be a great surprise for a lady in your life on Christmas. Whether you're giving the ring as a friendly gift or as an actual wedding ring, I promise the recipient will not be disappointed. It's a beautiful made, sterling silver ring. It fits just as it should. It doesn't turn your finger green and has some weight to it.
Purchase here
Connect on Social Media: Facebook / Twitter
---
Heifer International Beaded Bracelets

Heifer International now offers beautifully beaded and fair trade bracelets that were handmade by female artisans in India! Through this purchase, your voice can help women around the world create their own businesses and end poverty for themselves and their community. Heifer's mission is to work with communities to end hunger and poverty and to care for the earth. Heifer does this by providing appropriate livestock, training and related services to small-scale farmers and communities worldwide. Give a beautiful gift to the woman in your life – and give back at the same time!
Purchase here
Connect on Social Media:
Facebook
/
Twitter
---
Frownies

Frownies is the natural anti-aging skincare authority. Known for their signature NATURAL anti-wrinkle facial patches (no needles, no pain involved!) Frownies is a skin care line whose products are highly nourishing with ingredients that include anti-aging antioxidants, fruit oils and vitamins. Founder Kathy Wright is a Naturapathic Physician and the fourth generation woman to run the family-owned business.
Purchase here
Connect on Social Media:
Facebook
/
Twitter
---
RELAX Mandala Coloring Book

Embrace the concept of mindfulness. Immerse yourself in the splendor of days of old, days spent feeding your creative spirit and nurturing your soul. Inside the pages of this book, designed specifically with you in mind, you will take a trip, far away from the hustle and bustle that is your daily life and into a world where all that exists is you and the true essence of who you wish to be. Filled with soothing designs, just waiting for your artistic flare, this book may be the key to finding and keeping inner peace and happiness. Each page contains only one design, so that you may choose your medium without worrying about damaging your art. Customers will also receive a printable copy of 15 floral coloring patterns as a bonus for taking the first step toward this relaxing and creative endeavor.
Purchase Here
Read Our Reviews: Coloring is Not Just For Kids Anymore / My Favorite Adult Coloring Books & #FREE Coloring Page Prints
Connect on Social Media: Facebook / Twitter
---
Friendly's Ice Cream Flavored Coffee

If the woman in your life loves ice cream as much as she loves coffee then you will want to get her a pack of these delicious Friendly's Ice Cream Flavored Coffee Kcups! This 40 count pack of KCups is filled with a mix of Butterscotch Swirl, Chocolate Marshmallow Swirl, Mint Chocolate Chip, and Vienna Mocha Chunk. These single cup coffees will work in all Keurigs – yup, even the new 2.0 brewers – as well as many other single serve coffee brewers.
Purchase here
Read Our Reviews: Friendly's Ice Cream Flavored #Coffee KCups
---
Andes Mint Chocolate Flavored Coffee

Two Rivers Coffee has blended two classic after-dinner treats to come together in one delicious mint-chocolaty cup. When the fresh, cool flavor of Andes Mints combines with the rich bold taste of coffee, your taste buds will feel invigorated, no matter what time of day. Nothing says cold weather and winter, quite like a hot cup of Andes Mint Chocolate Flavored Coffee!
Purchase here
Read Our Reviews: Andes Chocolate Mint Coffee KCups
---
Two Rivers Coffee Deluxe Gift Box

This gift box contains an assortment of dark, medium, and light roast coffees, holiday flavored coffees, teas, cappuccinos, and ciders. No gift wrapping is necessary because these single serve cups come in a festively designed gift box tray. They even have a window that displays all 21 coffees that are included. These coffees are all made with 100% fresh Arabica coffee beans and cocoas and ciders contain the finest ingredients to brew perfect individual servings to brew perfect individual servings. Compatible with all Keurig k-cup brewers, these are truly a great gift for anyone on your list!
Purchase Here
Read Our Reviews: #GiftIdea: Two Rivers Coffee KCup Gift Boxes
---
Beaded Southwest Earrings
Spoil your lady this year. Pick up these earrings from Vavavida, along with other unique, handcrafted jewelry. I love the quality and style of these! They look beautiful on me and make me feel confident. Make the women in your life feel the same way.
Purchase Here
Connect on Social Media: Facebook / Twitter
---
Landfill Dzine – Lip Service Cosmetics Bag
A lip shape brings cheeky flair to this cosmetic bag, secured with a zip closure. It is made out of burlap, nylon, and upcycled irrigation hoses from the USA. This bag is very nice and a great size. I love the lip shape and I adore how well made it is. Fill it up with beauty supplies and you're guaranteed to have a happy lady this Christmas!
Purchase Here
Connect on Social Media: Facebook / Twitter
---
Wine Service & Storage Kit
This is a great gift set to purchase for the wine lover – perfect for the hostess, co-worker or friend. Each gift set includes: Two CapaBunga® wine savers — This reusable silicone cap reseals a bottle of wine after you remove the cork. It's made to resemble the bungs used to seal barrels during winemaking. Remove the cork and re-seal the bottle; it is liquid tight and the open bottle can rest on its side or even upside down without leaking. One CapaBubbles® champagne stopper — Keep your champagne fresh for up to a week with this easy to use champagne stopper that replicates a screw cap bottle. Perfect for storing leftover bubbles after holiday parties, New Year's Eve or any special occasion – even Friday nights! One set of six GlassWhere™ glass markers — These modern silicone wine glass identifiers tags cling to the glass so it does not slip off when you drink or clank against the glass when you swirl. You can write on, wipe off and reuse these ones. Perfect for every party where keeping track of your wine glass while drinking can prove difficult.
Purchase Here
Connect on Social Media: Facebook / Twitter
---
Dollup Case Makeup Organizer
The Dollup Case by­­­ makeup artist Nikki Hynek is the perfect way to house your entire beauty look in one gorgeous place while keeping you and your makeup stylishly organized at home or on-the-road. The hard case design protects and secures your daily essentials—no more dirty or broken cosmetics—while a convenient hinge feature allows the case to open flat for easy access to all your makeup. A customizable naked magnetic palette, elastic holding bands and an interior drop-down vanity mirror completes this perfect portable vanity for everything you need to dollup, touch-up and go!
Purchase Here
Connect on Social Media: Facebook / Twitter
---
Paper Mart Dual Temperature Hot Glue Gun
These full size 40-watt glue guns are perfect for your crafting needs. They feature a handy wire stand and extended length handle making them safer and easy to use. Our high-temperature glue gun is best for bonding more substantial materials such as wood, plastic, fabrics, etc.. The low-temperature model is excellent for use with delicate or heat-sensitive materials like lace, ribbons and lightweight materials. Our versatile dual-temperature glue gun gives you the option of high or low temperature with the use of a high/low switch on the side. These glue guns use .44″ diameter round glue sticks.
Purchase Here
Read Our Reviews: DIY Crochet Gift Basket / Pretties DIY Gift Baskets #1
Connect on Social Media: Facebook
---
Adtech Hi Temp Precisions Glue Gun
Designed for smooth lines and small dots. The Precision Pro Gun comes straight from you the consumer. You wanted a gun that had less dripping and wouldn't keep falling over – this is it! It also includes a two finger trigger, precision needle nozzle, and is ergonomically.
Purchase Here
Read Our Reviews: DIY Crochet Gift Basket / Pretties DIY Gift Baskets #1
---
Lion Brand Yarns – Bonbons
Indulge in color with Bonbons®, our collections of 8 miniature balls of yarn. Each collection includes 8 shades, perfect for any project requiring multiple colors, such as amigurumi, colorwork, embroidery, and embellishments. Bonbons are also great for friendship bracelets and kids' crafts.
Purchase Here
Read Our Reviews: DIY Crochet Gift Basket / Pretties DIY Gift Baskets #1
Connect on Social Media: Facebook / Twitter
---
Lion Brand Yarns – Glitterspin
Available in an assortment of eye-catching jewel tones, Glitterspun® is a crafters dream! Perfect for adding sparkle, shimmer and dimension to any craft project. The thin metallic ribbon threads easily through the eyehole of a yarn needle making it Ideal for creating jewelry, adding embellishments to knit and crochet projects, and paper crafting. Great for personalizing accessories and making projects truly your own.
Purchase Here
Read Our Reviews: DIY Crochet Gift Basket / Pretties DIY Gift Baskets #1
Connect on Social Media: Facebook / Twitter
---
Yarn Lovers Mug
Seriously, this is the PERFECT mug for a crafter! Every creative person I know needs a whole lot of caffeine to get them through their projects. We all know that DIY projects take hours. Lion Brand Yarns has this mug for only $7.99. It reads, "Just pour me my coffee, hand me my yarn and back away slowly".
Purchase Here
Read Our Reviews: DIY Crochet Gift Basket / Pretties DIY Gift Baskets #1
Connect on Social Media: Facebook / Twitter
---
2-in-1 Yarn Tote
Show everyone your love for knit or crochet with these large sized totes, which are perfect for storing your yarn, project-in-process, notions and every day essentials.
Purchase Here
Read Our Reviews: DIY Crochet Gift Basket / Pretties DIY Gift Baskets #1
Connect on Social Media: Facebook / Twitter
---
Ball Brand Purple Heritage Collection Jars
Introducing the final edition of the Ball® Heritage Collection. These limited edition Purple Heritage Collection jars are designed to pay tribute to 1915's "Improved" jars, and mark the conclusion of the Heritage Collection: our 100th anniversary celebration of a series of jars designed by the Ball Brothers between 1913 and 1915. The Heritage Collection started in 2013 with our Blue "Perfect Mason" jar, and was succeeded by 2014's Green "Perfection" jar. Now, we come to a colorful conclusion with this purple mason jar. These jars maintain all modern Ball jar standards for quality and reliability. Perfect for all of your creations… or as a collectible item!
Purchase Here
Read Our Reviews: DIY Crochet Gift Basket / Pretties DIY Gift Baskets #1
Connect on Social Media: Facebook / Twitter
---
Epson LabelWorks Ribbon Maker
Print personalized satin ribbons for crafts, scrapbooks, decorations, gifts and more — all with the fun and easy-to-use LabelWorks Printable Ribbon Kit from Epson. Delight your kids with birthday party favors that have their very own name on them. Give the bride and groom something extra special for their wedding with customized bookmarks, wine glass name markers and creative centerpieces. Gifts for any occasion are cherished even more when wrapped with personalized ribbon. You can even get creative and brighten up your own homemade crafts. Customize your ribbons using a wide variety of fonts, symbols and frames. Then instantly print and cut them at just the right size using Epson's LW-300 printer. You get beautiful ribbons that will charm friends and family alike. And up to 30 of your favorite ribbon designs can be stored and used again.
Purchase Here
Read Our Reviews: DIY Crochet Gift Basket / Pretties DIY Gift Baskets #1
Connect on Social Media: Facebook / Twitter
---
Popwish – Handmade 3D Greeting Cards
They are the most beautiful and unique greeting cards that I've ever seen. First of all, they are 3D. These are cards that will make the recipient say, "WOW!" I love that they are all handcrafted. I seriously don't want to ever use any other greetings cards after these!Every popwish card is carefully handcrafted in Vietnam, where we make sure to promote fair wages. The Popwish manufacturer is run and operated by women, who promote their independence in a country where generally, women are still very dependent on their spouses.
Purchase Here
Read Our Reviews: DIY Crochet Gift Basket / Pretties DIY Gift Baskets #1
Connect on Social Media: Facebook
---
Guardians of the Galaxy Scarf
I know you have some nerdy ladies in your life! This scarf is a beautiful gift idea for the ladies that love comic books, superheros, and Marvel! Cafepress has made a scarf printed with all of the
Guardians of the Galaxy
characters that we all know and love. The scarf is made of a beautiful, high-quality material, and would look great in a holiday gift basket or around your ladies neck! Before
Guardians of the Galaxy
was a hit movie, it was a Marvel comic! This full-bleed design features Groot and Rocket in front of a collage of Guardians of the Galaxy comic illustrations!
Purchase Here
Connect on Social Media: Facebook / Twitter
---
Guardians 8-Bit Shirt
Women's T-Shirt 100% cotton, Charcoal Grey is a 50% cotton/50% Poly Blend 5.6 oz Standard Women's Fit Crewneck Collar Machine Wash ColdSee more designs from: guardians of the galaxy
Purchase Here
Connect on Social Media: Facebook / Twitter
---
Sleevey Wonders
Sleevey Wonders reversible slip-on sleeves are ade to wear under sleeveless and strapless garments. Sleevey Wonders transform your sleeveless dresses and tops into one of the Season's Hottest Trends–lace and sheer sleeves! The product is available at specialty stores across the US, Canada, UK, and online.
Purchase Here
Connect on Social Media: Facebook / Twitter
---
Money Eyes Sleeping Mask
The one-of-a-kind novelty sleep mask is filled with real, shredded cash directly from the United States Federal Reserve Bank in Washington, D.C.It's the perfect gag gift for your boss and will bring a great smile to anyone that gets their hands (eyes) on it. The Money Mask™ is the ideal product for any aspiring mogul and provides the best feeling in the world: sleeping with money.Money Never Sleepz even when you have to, so while you are sleeping, keep dreaming about Money, then wake up and turn those dreams into a reality.
Purchase Here
Connect on Social Media: Facebook
---
Cella's Chocolate Cherry Flavored Coffee

Two Rivers Coffee has blended a coffee that tastes just like chocolate covered cherries. Perfect for anyone who loves chocolate, cherries, coffee, or all three this holiday season. These single serve kcups work in all Keurig machines (even the new 2.0 version) and are blended from 100% premium Arabica coffee beans.
Purchase here
Read Our Reviews: Cella's Chocolate Cherry Flavored Cofee KCups
---
Lugz Tambora Boots

The Tambora combines comfort, functionality and fashion to assure that you will love your boots for years to come. Providing tremendous warmth, the Tambora is the perfect cold weather boot. This cozy and comfortable boot features a plush faux fur lining, a luxuriously cushioned footbed and a reinforced rubber heel and toe for traction and durability. I love showing them off and get compliments on them daily. Any woman on your list is sure to be thrilled when she finds these under the tree!
Purchase Here
Read Our Reviews: Tackle Fall & Winter in Style with Lugz / Lugz Has New Fall Styles & These Are My Fave!
Connect on Social Media: Facebook / Twitter
---
Chuao Chocolatier

The latest Holiday bars from Chuao Chocolatier have hit shelves, and they are delicious! Peace, Love & Peppermint and Hope, Joy & Gingerbread are here. Chuao Chocolatier maker of culinary-driven, ethically sourced chocolate confections, offer a variety of delicious, sophisticated flavor combinations. I have tried many of them and my favorite is Oh My Smores! It is exactly what you think it is – complete with whole marshmallows in the bar! These are a gift that any woman would love to have this holiday season.
Purchase Here
Read Our Reviews: Chuao Chocolatier Bonbons The Perfect Valentine's Day Gift! / Chocolate That Will Make Your Mom Love You More… Seriously
---
The Original Muck Boot Company

The warmest Muck Boot has been upgraded for greater warmth and comfort in new colors with the Women's Arctic Sport Muck Boots from The Original Muck Boot Company. Designed for durability, the new boot works in the barn or the mountains, on city streets or a cold winter football game. With 5mm of CR flex-foam, this is the warmest, most comfort,able boot you'll ever wear. Comes in Tall or Mid and available in black, green, black/pink, or Acai purple. I love slipping into these when I run out to grab some eggs from the chicken coop or to walk the dog in the morning. I am constantly getting compliments on these – they are a must have for any woman on your list this year!
Purchase Here
Read Our Reviews: The Original Muck Boot Company
Connect on Social Media: Facebook / Twitter
---
St. Baldrick's Foundation

This year grab a gift that gives back from the St.Baldrick's Foundation's online store. Not only is there something for everyone on your list, but every purchase goes directly to fund the most promising childhood cancer research all over the country! Currently the foundation has awarded more than $176M in research grants by hosting their signature head-shaving events, as well as do-what-you-want fundraisers and the online store. The St. Baldrick's Foundation is a volunteer-powered charity committed to funding the most promising research to find cures for childhood cancers and give survivors long, healthy lives.
Purchase Here
Connect on Social Media: Facebook / Twitter
---
The Ultimate Travel Journal
You will no longer have blurred memories of what you did on that amazing trip you took, and you will never lose your itineraries, confirmation numbers, etc. because of the additional organizational guidance this journal provides. The Ultimate Travel Journal will open up a new world of fun and adventure for you. Imagine sitting down with your granddaughter and being able to share every wonderful moment of your trip with her with so many details, that she feels she has been there with you.
---
Ankle Bracelets
Are you ready to feel sassy, classy, flirty and fun? Picture yourself as a Trend Setter and feeling more feminine and sexier too! These ankle bracelets are hand made using diamond cut aluminum tubing, Czec crystals, and strong stretch cording. They don't rust, tarnish,chip or peel and they are extremely durable. These are also easy to get on and off. I love the way that they look and have gotten several compliments already.
---
Paws Forever in My Heart Necklace

Every once in a while a dog comes into your life, steals your heart and changes everything. You know – the one where you realize that you truly love this little fur ball so much that if something happened to them, you truly could feel your heart shatter into a million pieces. They nestle deep into your heart where almost no one else can go. This necklace is a symbol of that special love. This necklace is for you if you have been lucky enough to have had a fur baby like this. Beautiful Sterling Silver Heart Slide with Paw Nestled Deep Inside the Heart (as it should be) ~ measures 1 inch tall by 1 inch wide. The Slide design makes this Pendant extremely versatile. You can choose from an 18 inch black satin cord with a sterling silver clasp or a sterling chain, but it can also be worn with almost any ribbon, velvet or leather cord. This gift is perfect for any dog lover on your list!
Purchase Here
Connect on Social Media: Facebook / Twitter
---
Chocolate Text

Create your edible message using chocolate letters with ChocolateText.com! You can use letters, numbers, and even symbols! What girl wouldn't like to receive a heartfelt message written in delicious, decadent chocolate! I know I would. This chocolate is delicious and arrives in a gorgeous holiday gift box! There are infinite possibilities and the online ordering system is a breeze to use! Chocolate Text is fun and unique making it the perfect gift for anyone you love this holiday season. All of their products are manufactured and shipped from their production facility just outside New York City to Wordsmiths all over the US! They ship to all US locations via the US Postal Service.
Purchase Here
Connect on Social Media: Facebook / Twitter
---
Jabrics Selfie Stick

This versatile selfie stick is German precision-crafted with anodized aluminum so it is light-weight yet built to perform well with heavy use. The monopole extends from 15.7″ to 34.2″. A handy twist lock allows you to loosen or tighten the pole with a quick flip of the wrist. It has a 360 degree rotating head so you can adjust the camera angle any way you like. It's designed for iPhone 5, 5c, 5s, 6 & 6 Plus, as well as Samsung Android smart phones, Gopro's and other digital cameras. All controls are located on the ergonomic handle for handy, one-touch access. Runs on extended-life, lithium battery. Comes with all Gopro, camera & cell phone attachments. This would make the perfect holiday gift for any fashionista – or someone who just loves taking selfies!
---

Limited Edition Minka Sicklinger Brass Comb

We've teamed up with designer Minka Sicklinger for this edgy, limited edition brass style with deeply etched design. It will only be available for a few months or until supplies last, so nab one while you can If you like to spruce up throughout the day, or prefer to travel light, a go-comb is a great accessory you can take anywhere. Everything from the color to the design, makes this a beautiful gift for a ladies stocking or beauty gift package this year!
---
Teeda Sterling Silver Jewelry

Create timeless memories for your loved ones and friends with authentic sterling silver jewelry pieces that last beyond the razzle dazzle of the Holiday season. Each silver jewelry piece is crafted to an exacting standard of quality that Teeda has always been known for. So, you'll never go wrong with a classic piece of sterling silver—from necklaces to toe rings, you'll find a style and design that'll be perfect for that special person in your mind. What's even better? Teeda offers wholesale prices so you can shop for everyone in your list without breaking the bank! Don't wait for the Holiday rush, get your orders out the door soon.
---
Showertime Gift Set

Looking for the perfect gift! Try our ShowerTime and BathTime Gift Sets. Who wouldn't love a complete shower and bath sets with full size skin care products and accessories! Pamper your special someone with the natural goodness of Spoiled Naturally! Showers will never be the same. Brighten your day with our luxury ShowerTime Gift Set!
Includes: (1) Scented Salt Body Scrub – 16 oz, (1) Body Scrub Scoop, (1) Beautifully colorful variegated Shower Sponge, (1) Back Scrubber and back massager, (1) Mini Foot Scrub Brush, (1) Large Body Butter Parfait – 5 oz, (1) Lotion Bar, Beautiful wicker and iron basket. You can choose your own scent!
Purchase Here
Connect on Social Media: Facebook / Twitter
---
Little Bamboo Socks
If you have someone in your life that prefers no show socks – grab them some Bamboo No Show socks from Little Bamboo. These socks are ridiculously comfortable – they are super soft on your feet! The bamboo fibers are great because they make the socks anti-odor and anti-bacterial. They have non-slip silicone grips around the heels which prevents them from slipping off while walking. These are great for tennis shoes, boat shoes, loafers, dress shoes – you name it!
Purchase Here
Read Our Reviews: No Show Bamboo Socks
---
Casetify

What mom doesn't like to show off their kids whenever they can? With Casetify it just takes (literally) minutes to create a cell phone case using your own images. You can upload them from your computer or even import them from social media such as Instagram and Facebook. I was so thrilled with my phone case when it arrived. It is really well made and looks great! I love showing off my photos from my latest Disney World trip to everyone I come across. Cases can be customized for iPhones, iPads, Macbooks, and even Apple Watches!
Purchase Here
Connect on Social Media: Facebook / Twitter / Instagram
---
The LEAF

Ever since it's debut in late fall of 2014, the LEAF has been an instant hit among women who want to take care of their bodies. Designed by a woman – for women, the LEAF does everything a health tracker should do, and then some. The LEAF measures sleep, tracks activity, monitors reproductive health, reduces stress with its' built in breathing exercises, and keeps things on schedule. I personally love that I can set my LEAF to vibrate if I have been sitting inactive for too long (during certain times of the day of course – not at night), because I tend to sit and work for too long without getting up. When it does this I know it is time to get up and maybe get a glass of water or do a few quick laps around the house. The LEAF can be worn on a necklace, bracelet, or even clipped on your pants. This would be the perfect gift to place under the tree – or even in the stocking of – any woman whose new year's resolution is to get fit and healthy.
Purchase Here
Connect on Social Media: Facebook / Twitter / Instagram
---
Don't Lick the Minivan

In DON'T LICK THE MINIVAN: AND OTHER THINGS I NEVER THOUGHT I'D SAY TO MY KIDS, author Leanne Shirtliffe captures the bizarre aspects of parenting in her edgy, honest voice. Despite some inevitable snafus, a delayed encounter with postpartum depression helped Shirtliffe to realize that even if she can't teach her kids how to tie their shoelaces, she's a good enough mom. This book will have parents laughing out loud and nodding in agreement. While Shirtliffe's memoir might not replace a therapist, it is a lot cheaper!
---
TMNT Holiday Sweater

Are you looking for a turtley awesome way to celebrate the holidays? If so, look no further than this officially licensed Teenage Mutant Ninja Turtles sweater! Featuring Leonardo, Michelangelo, Raphael and Donatello in Santa hats, this TMNT sweater is a great way to show some love for your favorite heroes in the half shell while you sing carols and drink eggnog. Keep warm and cozy with four of the coolest dudes in the world thanks to this radical Ninja Turtles sweater!
Purchase Here at TVStoreOnline.com
Read Our Reviews: Gifts for the Teenage Mutant Ninja Turtles Fan
Connect on Social Media: Facebook / Twitter
---
Get Up and Move You A**! Book

A picture book written in rhyme by the eminent geriatrician couple Drs. Harrison and Patricia Bloom, and illustrated by award-winning cartoonist Isabella Bannerman, it summarizes in an engaging and entertaining way, and includes advice to maximize one's potential for achieving successful aging. Covering the spectrum of physical and mental activity, social and spiritual engagement, good nutrition and healthy behaviors, it is sure to inspire to action, and change adults of all ages.
Purchase Here
Connect on Social Media: Facebook / Twitter
---

The Choosy Chick Sampler Bag

I was so surprised by the incredible samples in this bag! They packed this little cosmetics bag FULL of beauty samples that every woman would love. This is an incredible gift idea for women and for stockings! All of our gorgeous jute bags are handmade carefully by women in Kolkata (Calcutta), India employed by Freeset, an organization that provides women the opportunity to work and regain control of their lives in a caring community. Know that when purchasing this bag you are helping to support women that otherwise would have no means of escaping poverty and oppression.
Purchase Here
Connect on Social Media: Facebook / Twitter
---
Vine Street Market Boho Print Canvas Tote

This tote bag is gorgeous! It's perfect for anyone that loves the bohemian style. The print is fun and the "dust" color is very unique. The canvas is thick and easy to clean. It's tough and will carry whatever you need! I love using this while traveling because it can be folded right up into it's own little pocket. This is durable, fashionable, and would be a great bag to hold Christmas gifts this year. It could also be shoved right into a stocking!
Purchase Here – Pick this bag up for only $20 for a limited time using code: HOLIDAYTOTE
Connect on Social Media: Facebook / Twitter
---
Moleskine Peanuts Daily Diary
One of the most famous comic strips for generations, Peanuts bring its ironic perspective into your daily life. Customized cover, with themed graphics and details. Custom flyleaves and endpapers. Includes limited edition stickers. This is incredible, durable, beautiful, and perfect for a Peanuts lover!
Purchase Here
Connect on Social Media: Facebook / Twitter
---

Charles Viancin Chef's Aprons

The CHARLES VIANCIN® apron is an essential addition to any chef's arsenal. Our apron has the added feature of a silicone pot holder incorporated into the cloth's construction which makes for a much safer and easier handling of hot dishes. The apron's generously-sized lap pocket allows you to keep multiple accessories close at hand. Currently available in two styles: POPPY® and GRAPE™. Our apron is made from 100% cotton and is machine-washable.
Purchase Here
Connect on Social Media: Facebook / Twitter
---
Phonetic Eyewear
Need a gift for the reader, beauty, or businesswoman this holiday season? Phonetic Eyewear glasses are a terrific gift for her this year! Phonetic Eyewear offers eyewear with clear, prescription quality lenses that have a special coating to deflect a portion of unwanted blue light. Phonetic Eyewear puts these lenses into frames designed for someone who wants to protect their eyes and still look good. Available in plano and add powers for a little extra magnification, the frames are perfect for working at your computer or tablet, and stylish enough to wear all day long. With the use of technology increasing daily these will be the perfect way to protect anyone's eyes!
Purchase Here
Connect on Social Media: Facebook / Twitter
---
GoPro Hero4 Session
Give the gift of adventure to your tech-loving gal. Does she love to fish, travel, experience, and enjoy life? Then this gift is for her! Give her the GoPro Hero4 Session and take her on a fun and exciting date for Christmas. Give her memories that she can capture! HERO4 Session packs the power of GoPro into our smallest, lightest, most convenient camera yet—featuring a rugged and waterproof design, easy one-button control, 1080p60 video and 8MP photos.
Purchase Here
Connect on Social Media: Facebook / Twitter
---
C4 Custom + Interchangeable Belts & Buckles
Have you ever wondered why a woman packs so much? It's because she loves options! That's exactly what c4 belts will give her – many options, colors, and designs. We want something to match everything. With fun colors and designs, you're sure to give a winning gift this year! C4's mission is to promote individuality through quality belts that gives back. C4 stands for Choose your Color, Choose your Cause. Not only do you Choose the Colors to best match your style, you also Choose one of four Charities to determine how we give back $1 for each belt you purchase. Choice is key; express your freedom.
Purchase Here
Connect on Social Media: Facebook / Twitter
---
Bloom Designs Stationary & More

Listen up ladies who love golf, tennis or yoga….there's now a company just for you! Simple. Classic. Ladylike. We could go on and on about why Bloom Designs sits near the top of every woman's "favorite things" list. How about brightening someone's day by sending them a note from your monogrammed golf, tennis or yoga themed cards and envelopes. Or check out the line's adorable feminine golf, tennis or yoga themed candles, bag tags, iPhone cases, tumblers, stationery or dozens of other great items! Their cards are absolutely beautiful. The designs are feminine and peaceful. My favorites are the Wellies and Bike Ride.
Purchase Here
Connect on Social Media: Facebook / Twitter
---
Zoku Iced Coffee Maker

Every woman I know loves iced coffee! The only problem is that it takes awhile to make. Well, not anymore! Turn piping hot coffee or tea into a delicious chilled beverage in as little as five minutes. Don't let ice dilute your favorite flavor, just store your stainless steel mug in your freezer, add it to the insulating sleeve, pour your beverage and snap the lid on tight. This travel mug is spill resistant with a sipping straw that makes it ideal for drinking on the go.
Purchase Here
Connect on Social Media: Facebook / Twitter
---
Horacia 2016 Planner

The purpose of this planner is to unlock your best year ever. We hope this planner guides you in recognizing and minimizing distractions so you can make time for your passions and dreams. This planner is printed on Finch Fine which sustains natural American forests, supports independently certified fiber sourcing, and reduces fossil fuel emission through the use of renewal biomass and hydroelectric power. This is a beautiful planner. It's very well-made and I love the motivation and inspiration it gives.
Purchase Here
Connect on Social Media: Twitter
---
Activité Pop Activity Tracker Watch

This watch is a perfect gift for ladies that are looking to get fit for the new year. Combine this with a few other health items and she will be motivated to get some pep in her step. This specific watch is really unique because it doesn't look like your typicaly activity tracker. It's really pretty and stylish. You can choose the color that you'd like, too. It's an award-winning activity-tracking watch for Walk, Run, Swim & Sleep! It automatically tracks steps, runs, swims (5ATM water resistant) and calories. It has sleep analysis & a silent vibrating alarm. There's an 8-month cell battery, so there's no charging required! To top it all off, you can view all of your progress on your smartphone.
Purchase Here
Connect on Social Media: Facebook / Twitter
---

NiteBright Ultra Reflective Fleece Headband

This headband is super comfortable, stylish, and soft. If you want a headband for your workouts, for day or night, then this is for you! Be safe, be seen, with this Fleece Headband, part of Empower's exclusive new NiteBright ™ collection. Fashionable, retro-reflective safety gear that features comfortable fabrics, flattering fits as well as colors and prints that work with the rest of your wardrobe—day or night. Walking, running, or running around; you'll want to BE SEEN in this safety gear!
Purchase Here
Connect on Social Media: Facebook / Twitter
---
Scent Trunk

Scent Trunk is a subscription fragrance box that will send you 3 monthly scents according to the scent profile survey you complete on their website. Each scent comes with a card explaining the longevity, intensity, when to wear, and more. If you like your sample scent, they do sell full size fragrances in their shop. It is a lot of fun to order – and a lot of fun to try out new scents. The gift box it arrives in would be the perfect size to stick in a stocking as well.
Subscribe Here
Read Our Reviews: Scent Trunk for Mom and Dad
Connect on Social Media: Facebook / Twitter
---
The Coloring Cafe-Volume Three- Inspired Heart

The Coloring Cafe's Inspired Heart delivers uplifting sayings, cute illustrations and fun patterns for you to color! Coloring is a relaxing and creative outlet and this book proves that stress relief can be cute and fun! Ronnie Walter's detailed drawings and selection of positive messages will put you in a good mood in no time!
Purchase Here
Read Our Reviews: DIY Craft Tween Gift Basket / Pretties DIY Gift Baskets #2
---
Tiger Lily Soaps

Tiger Lily Soaps is a gift that every woman deserves. We deserve to pamper ourselves, even if it's in our own homes. The bath bombs and bath salts are under $5.00! Shop on a budget and get the best bang for your buck! Give your gal a spa gift basket this year or even throw a few bath bombs in her stocking. She will love that you are giving her a thoughtful gift.
Purchase Here
Read Our Reviews: Now THIS is How A Woman Should Pamper Herself
Connect on Social Media: Facebook / Twitter
---
ACEVOG Women's Clothing

ACEVOG has a ton of dresses that I love and i know you will too. Amp up your style and shop with them. They are perfect clothing for all of your holiday looks and everyday looks! Want to give a gift that will be appreciated? Give her beautiful clothing from ACEVOG!
Visit Their Website / Purchase on Amazon
Read Our Reviews: ACEVOG: Modern to Classic Clothing For An Affordable Price
Connect on Social Media: Facebook / Twitter
---

Elektrix Love Galaxy Voltage Pant

Made from recycled P.E.T. in Southern California, the Fabric Content is 79% Recycled P.E.T. and 21% Spandex. The blend of fabrics make the perfect workout leggings. They are very thin and breathable. Pick these up for the women in your life this year and start ehri new year owrkout routine just right!
Purchase Here
Read Our Reviews: Keeping My Workouts Cool and Sexy With Elektrix Love
Connect on Social Media: Facebook / Twitter
---
Skinn Cosmetics Holiday Gift Sets

No wrapping necessary! Spoil her this holiday season with Skinn Cosmetics holiday gift sets! Whether you want to give her a spa experience in her home or give her something that will make her feel beautiful, Skinn Cosmetics has something affordable and natural. Make her a spa gift basket or fill her stocking with Skinn Cosmetics. I promise you that it's a brand that you can rely on to make her face light up on Christmas morning.
Purchase Here
Connect on Social Media: Facebook / Twitter
---
Finders Key Purse Hook

Don't you get sick of searching through your handbag for your keys? It's annoying and just inconvienet. No matter what size purse you have, it never gets easier. If you're reading this and you are looking for a gift for the ladies in your life then you need to pick up one of these hooks for every lady in your life. The idea is genius, yet simple. Attach your keys to the bottom of the Finders Key Purse Hook and hook it to the inside of your purse. The cute design, whatever it may be, will show on the outsiede. Not only is it a tool, it's an accessory and one that everyone woamn would appreciate. They have a ton of beautiful designs, so there's something for everyone and anyone.
Purchase Here
Connect on Social Media: Facebook / Pinterest
---
Tzaro Jewelry

TZARO's jewelry, inspired by the glamour of New York City, expresses passion in its design to bridge the gap between reality and fantasy. In a culture of ever-changing trends, TZARO shall remain an elegant expression of graceful style. While the world will tempt you with glitzy and gaudy elements, they will provide you with ageless elegance. TZARO is a poem rather than a story, a symphony rather than a sound. I love my Tzaro jewelry. It is well made and compliment to any outfit. With so many items to choose from, you are sure to find something for the woman in your life. I personally love my Elegant Three Circle Blue Crystal Bracelet and my World's Best Mom Bracelet.
Purchase Here
Connect on Social Media: Facebook / Twitter
---
Jenaluca Herb Scissors

The Jenaluca® Herb Scissors were featured on Amazon as 30 Home Essentials Under $30 and are very popular. They have 5 blades and make quick work of cutting herbs. They are stainless steel, and have a comfortable, anti-abrasive handle, dishwasher-safe, and are recyclable. Perfect kitchen gadget, and can be used for arts & crafts, and shredding fabric or paper. Ideal for wedding, shower, hostess, housewarming, birthday and holiday gifts!
Purchase Here
Connect on Social Media: Facebook / Twitter
---
88 Handbags

There are many reasons to love 88 Handbags. 88 is a vegan brand and no animal products are used. 88 is the number of constellations in the sky. 88 is considered the luckiest number in Chinese culture as it sounds like word for wealth. 88 is the ham radio sign off that means love and kisses. 88 represents the cycle of creation and recreation. 88 is a collection of bags designed by an expert creative team that works on design for brands world wide. This collection is their favorite. It is the edited expression of the right bags for the season. Bags that are on trend, that look great and which work. Bags that enhance your life by helping you look good while working hard to carry the stuff you need. They are created by optimistic people who love what they do. Bags that work to help you in the wide and varied adventures of your daily life while looking great at the same time. And they come at a low price point. Impress your friends with an 88 handbag today – and grab one for each lady that you love on your shopping list this holiday season!
Purchase Here
Read Our Reviews: Check Out 88's 2015 Holiday Handbag Collections
Connect on Social Media: Facebook / Twitter
---
Cloudz On Hand Pillow

This versatile pillow is your first step in travel comfort! Designed for multiple uses, and so unique..its patented! Your hand actually fits inside so you can support your head perfectly. The ergonomic shape cradles your head and neck when lying down or sitting. You can also use this pillow to provide extra lumbar support while traveling, sitting at your desk, or just relaxing at home. The dual comfort outer shell provides a choice of soft and cozy plush or refreshing, cool spandex. The inside is filled with premium comforlite microbeads that offer the perfect blend of support and relaxation. Includes a snap to easily attach to your luggage. I was honestly shocked by how comfortable it is and how much I love it. I chose pink for mine, but it comes in blue as well. If you know someone who travels a lot – whether for business or pleasure – this is the perfect gift for them!
Purchase Here
Read Our Reviews: Cloudz On Hand Pillow – Perfect for Travel & More
---
Gift Izzy Luxury Accessory Box

Perfect for any fashionista, Gift Izzy is packed with more than $350 worth of products for only $99. Make a one-time purchase
as a gift or get it for yourself as a bi-monthly subscription. The company is launching with their debut "Roman Holiday" themed gift box featuring a limited edition Gianni Bulgari bracelet and several other lust-worthy items. In fact, in every Gift Izzy box, there will be at least one exclusive limited edition piece made especially for Gift Izzy. The packaging is gorgeous and the items are all carefully selected with a fashionista in mind. This box is packed full of gorgeous items that every woman would swoon over this holiday season! Spoil your lady with a box full of beauties that she will actually use and keep forever. She deserves it!
Purchase Here
Connect on Social Media: Twitter
---
Happy Home Trunk

Have you ever heard the phrase, "Happy wife, happy life" ? Well, where I come from it's more like,"Happy Home, Happy Family". A happy home consists of many things – home cooked meals, great smells, smiling faces, quality time, pretty decor, and yummy treats! Ever sense is beaming in a happy home. The Happy Home Trunk has the same concept. This box consists of 5 items – 1 for each of your senses. Includes: Happy Home Scent-Pure essential oils, Happy Pure Soy Candle infused with the happy scent, Recycled Barn Metal Purple Heart- Because every happy home needs love, Salted Caramels To Share, and a Beautiful Card describing a Happy home. Pick this box up for the moms, wives, and the families out there this year! They will not be disappointed!
Purchase Here
Connect on Social Media: Facebook / Twitter
---
Ink N Burn Workout Clothing

If you love art. Any type of art –you will love the Ink & Burn workout clothing. It's art on running, yoga, and workout clothing! How cool is that? So, in the spirit of Christmas and the new year with new resolutions, pick up some clothing for the ladies in your life. They have tanks, capris, and mroe! Each item as a unique twist to it and a story behind it.
Purchase Here
Read our Reviews: Ink & Burn – Workout Clothing With An Artistic Touch
Connect on Social Media: Facebook / Twitter
---
Nene Shoes – Emma Flats

The women's Emma Flats from Nene Shoes are just perfect for any outfit or any occasion. They are comfortable, stylish, and lightweight. The color pictured is the Gunmetal and Gold. It's a great color for your lady's holiday looks. If you really want to surprise her, pick up matching mother and daughter shoes!
Purchase Here
Read our Reviews: I Finally Found Flats That Don't Hurt My Feet
Connect on Social Media: Facebook / Twitter
---
LaBosh Coffee Body Scrub

Coffee doesn't just have to wake you up on the inside! Exfoliate, detox and awaken your skin with our coffee scrub! Exfoliation is an essential part of maintaining healthy beautiful skin. The gentle abrasion removes dull skin and encourages circulation making those dreaded less than perfect areas look less noticeable. Coffee is rich in antioxidants, making it an awesome anti-inflammatory ingredient. It contains caffeine, which draws out excess moisture from your skin, causing it to look and feel smoother and firmer. In this scrub, coffee acts as a mild exfoliate, removing dead skin cells and exposing fresh, soft skin. They combine coffee with moisturizing, skin-soothing avocado oil and a bit of sea salt for an extra exfoliating kick! It is natural, vegan, and paraben free! Plus help out a cause at the same time – LaBosh is proud to donate a portion of our profits to the A21 non-profit organization. A21 helps women that have been sold into human trafficking be reunited with their families and loved ones. This is the perfect gift for any woman on your list!
---
Hamsa Loop Chocker

Fit for a goddess, a loop of delicate gold triangles is a stunning and chic look that plays between feminine and edgy. Part of the 14k gold Hamsa series. Make a girl's dream come true this Christmas with a beautiful choker necklace from Soko
Purchase Here
Connect on Social Media: Facebook / Twitter
---
Horn Cone Ring

Go bold or go home! Pair this gorgeous ring with a pretty nude lip for a simple yet bold statement look. Each ring is individually crafted using upcycled materials by Soko artisan Kine outside of Nairobi, Kenya.
Purchase Here
Connect on Social Media: Facebook / Twitter
---

Wishes Come True Eye and Face Makeup Palette
This multipurpose slide-out palette contains subtle, luminous colors to help you endure winter weather and look good doing it. Six eye shadows enhance eyes, while a fresh pink blush and two highlighters provide a fresh and luminous look.
Purchase Here
Read our reviews: 6 Sephora Collection Gifts That Are Worth Picking Up For The Holidays
Connect On Social Media: Facebook / Twitter / Instagram
---

Precious Elements Anti-Bacterial Brush Set
Each of these professional-quality brushes is treated with a non-toxic, hypoallergenic compound that attacks and destroys harmful bacteria. The soft, synthetic fibers distribute just the right amount of pigment for a perfect result every time. The set includes a limited-edition cream colored pouch with rose gold leopard print to keep the brushes clean and organized.
Purchase Here
Read our reviews: 6 Sephora Collection Gifts That Are Worth Picking Up For The Holidays
Connect On Social Media: Facebook / Twitter / Instagram
---

Be Spotted The Escapader Bag
Escape for an adventure with this versatile zippered pouch that easily fits into your purse or carry-on. The quilted, pleather tote is waterproof and promises to keep your makeup, hair, or nail essentials safe and secure. The Be Spotted edition comes in soft cream with a rose gold leopard print pattern.
Purchase Here
Read our reviews: 6 Sephora Collection Gifts That Are Worth Picking Up For The Holidays
Connect On Social Media: Facebook / Twitter / Instagram
---
Amazon Fire HD 8

I really couldn't ask for a better tablet or e-reader. Everything from the sound to the graphics are exactly what I need. The battery life is long, so I can always count on this tablet when I need it! This would be an incredible gift for this holiday season. Fill it with books for a child, add some music for a teen, or give it with an Amazon gift card for another loved one.
Purchase Here
Read Our Reviews: Why You Should Grab the Amazon Fire HD 8 for Christmas
---
Women's Tea Cup Sleep Pants

Life Is Good. There's so many thing to be happy about, especially these cute tea cup sleep pants. I have an idea to give these as a gift with a cute mug and lots of tea for the holiday season. Maybe give this to your teen daughter or even your wife for a Christmas Eve gifts. Other ideas to pair with this include Christmas movies and a good book. These are soft, fit great, and the meaning is incredible. Life Is Good has a lot of great products for men, women, and children. The best part is that they give 10% of their profits to held kids in need.
Purchase Here
Connect On Social Media: Facebook / Twitter
---
Yeah You Write Notebook

Eco friendly notebook with pen "Yeah, you write" silk screened on cover. This is the notebook that I turn to when I need motivation to write. The saying makes me giggle and it reminds me that I need to physically write more. If you don't know it already, a lot of women have an obsession with planners, journals, notepads, and notebooks, even if they don't use them all.
Purchase Here
Connect On Social Media: Twitter
---
Noodle & Boo Gift Sets

Whether shopping for the new mommy in your life or the newest addition, Noodle & Boo offers the perfect gift sets that take the guesswork out of gift giving. Available at a variety of price points, these sets are sure to bring out smiles this holiday season! The Baby Love Deluxe Gift Set includes cleansing cloths, ointment, and an essential care kit for the low price of $38! There is also a Newborn Favorites Gift Set for $60 – and my personal favorite, "The Works" Gift Set for $100. The Works set includes diffuser, soap, ointment, body wash, shampoo, lotion, and conditioning hair polish.
Purchase Here
Connect on Social Media: Facebook / Twitter
---
Smith & Cult Holiday Trio 2 Nail Polish Kit

This holiday season Dineh Mohajer, Co-founder and Creative Director of Smith & Cult, created custom combinations of her classic Nailed Lacquer shades for two gift-worthy sets. Use these must have shades on their own or mix and match for a sophisticated take on nail art. The 5-Free nail formula delivers flawlessly smooth coverage, brilliant shine and a chip-resistant finish.
---

Sonia Kashuk Limited Edition 10pc Brush Set

These brushes are gorgeous! All of the ladies were going crazy over the brushes when they released in Target stores.Seriously, they were selling out everywhere. It's no surprise though. These brushes are really soft, they don't shed, and they look beautiful. Make your ladies dreams dreams come true this year with this gorgeous brush set.
---

Orogold 24k Skincare Package

Nights on the road don't need to be rough on skin with the OROGOLD Absolute Revival Travel Kit. The 24K Purifying Facial Toner wipes away any traces of dirt from your skin in preparation for applying the ultra indulgent 24K Deep Renewal Night Cream. Apply the skin pampering formula containing gold, vitamin E and sunflower seed oil, right before bed for gloriously luxurious beauty rest. Complete your night time routine with our 24K Golden Body Butter. The creamy moisturizer leaves a long lasting impression for velvety-soft skin.
Purchase Here
Connect on Social Media: Facebook / Twitter
---
jane iredale In the Blink of a Smoky Eye

A collection of decadent holiday makeup inspired by busy women who want to create beautiful holiday looks with effortless ease. The limited edition In the Blink of a Smoky Eye Smoky Eye Kit is a modern palette developed specifically for women to create quick and easy looks for every event of the season.
Purchase Here
Connect on Social Media: Facebook / Twitter
---

Amarte True Brightening Collection

This is an all-inclusive ritual kit offering a complete brightening Korean skin care regimen. Using powerful, natural brighteners to fade brown spots and hyperpigmentation, this regimen is designed to uncover your skin's luminous glow. The kit includes instructions on how to layer the products morning and evening for optimal results as recommended by board certified dermatologist Craig Kraffert, President of Amarte. All products are formulated at the Bio-RIC Innovation Center in Korea using A-grade botanical ingredients.
Purchase Here
Connect on Social Media: Facebook / Twitter
---
Camelflage Panties

Specifically designed to smooth out your feminine parts under tight clothing. Yoga pants, trousers and skinny jeans are no match for our patented technology.
Purchase Here
Connect on Social Media: Facebook / Twitter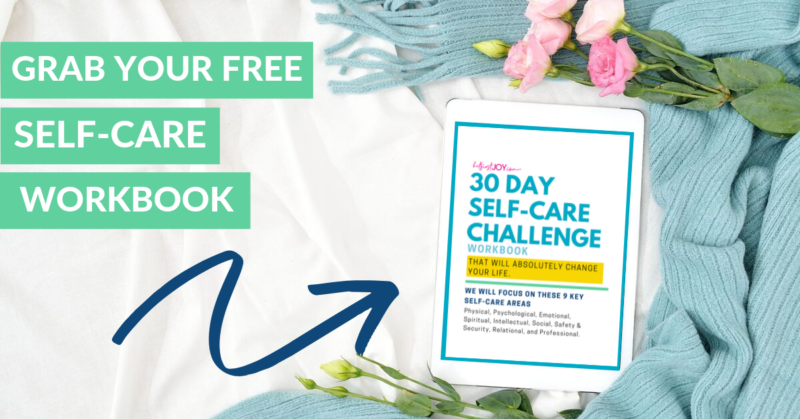 DISCLOSURE
As an Amazon Associate I earn from qualifying purchases. This post may contain affiliate links and/or promotional products, all opinions expressed are that of But First, Joy only. Read my full disclosure.